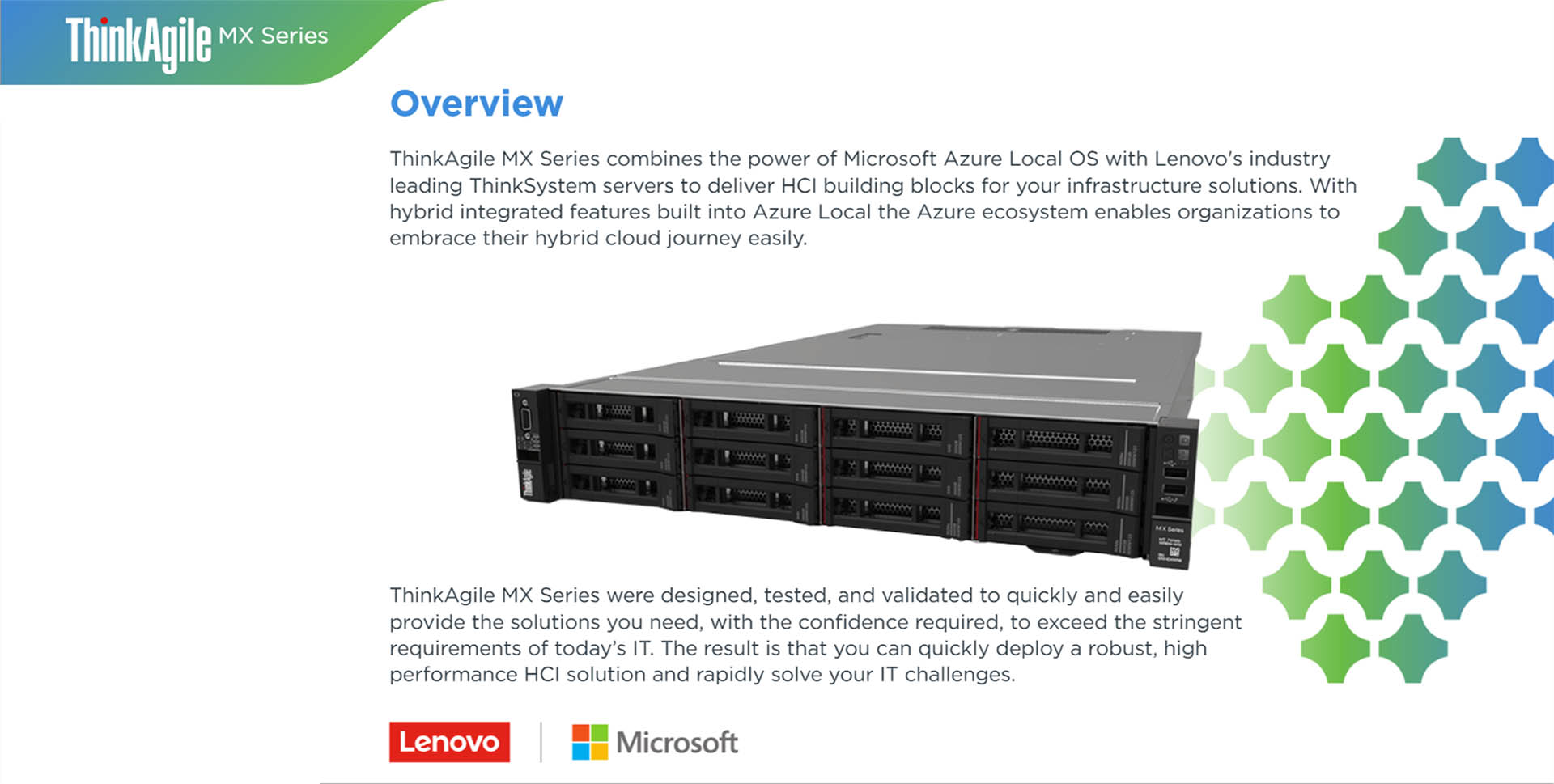 MX Series
Overview
ThinkAgile MX Series combines the power of Azure Stack HCI OS with Lenovo's industry leading ThinkSystem servers to deliver HCI building blocks for your infrastructure solutions. With hybrid integrated features built into Azure Stack HCI the Azure ecosystem enables organizations to embrace their hybrid cloud journey easily.
ThinkAgile MX Series were designed, tested, and validated to quickly and easily provide the solutions you need, with the confidence required, to exceed the stringent requirements of today's IT. The result is that you can quickly deploy a robust, high performance HCI solution and rapidly solve your IT challenges.
ThinkAgile MX Series
*or Linux
Easy
Pre-integrated Azure Stack HCI building blocks

XClarity and Windows Admin Center plugin support for ease of management

Single part number to order

Seamless integration into Azure services
Reliable
Pre-loaded industry leading HCI software

Fully certified hardware and software

Built on Lenovo's #1 in reliability servers
Customer Experience
Turnkey end to end offering with preloaded software

Deployment services

Single contact for HW & SW support on ThinkAgile MX Integrated System
Azure Stack HCI OS license provides the following benefits
ThinkAgile MX includes
Azure Stack HCI as the
default HCI host OS.
Customers can additionally
include Windows Server
Datacenter Edition for the guest OS with unlimited VMs.
Storage Spaces Direct (S2D)
State of the art software defined storage from Microsoft with multiple high performance resiliency options, deduplication, compression and more.
Software-Defined Networking
Features such as virtual network encryption, firewall auditing, virtual network peering allows you to get the benefits of a more secure software defined network with Azure Stack HCI.
Windows Admin Center (WAC)
A web-based management portal is included with the software at no extra cost. Deployment and update features in WAC make deployment extremely simple and easy to perform. Additionally, Lenovo's XClarity plugin allows you to deploy hardware as well as software from the same interface, enabling single pane of management.
Hyper-V
Hypervisor is included in the license.
Azure Stack HCI is hybrid by design, and you can benefit from native integration with Azure Arc and Azure Monitor and connect to Azure for a variety of Azure hybrid services seamlessly. Fleet management for hosts and VMs allows you to monitor and manage clusters at scale.
Efficient, dedicated and secure
Lenovo's ThinkShield delivers essential integrated security for hardware data and more.
Secure business
process
Secure product
design
Secure supply
chain
Secure hardware foundation
Windows Admin Center
Reimagined "in-box" platform and tools
Included with Windows Server license— no additional cost

Hybrid Cloud Services included

Lightweight, browser based remote management

Manage Windows Servers from Azure

Simplify server management

Operate hybrid seamlessly

Streamline HCI management
Connect Seamlessly with Azure using Windows Admin Center
Azure Update
Management
Azure Security
Center
Azure
Monitor
Azure
File Sync
Azure Site
Recovery
Fast, flexible and scalable
Deploy infrastructure faster and with less effort. Lenovo XClarity makes short work of administrative tasks.
XClarity Extension for Windows Admin Center
Enabling Single Pane of Glass Management
Simple Installation—Free to download

Remote Console, Power ON and Power OFF operations

Server Inventory

Alerts, Event Log and Audit Log

Power consumption and Temperature

Firmware Management using baselines

Aggregate alerts at the cluster level
Ease of Hybrid Cloud deployment with flexible HCI
Azure Stack HCI is a hyperconverged infrastructure (HCI) operating system delivered as an Azure service that provides the latest security, performance, and feature updates. Deploy and run Windows Server or Linux virtual machines (VMs) in your datacenter or at the edge using your existing tools, processes, and skill sets. Extend your datacenter to the cloud with Azure Backup, Azure Monitor, and Azure Security Center. Native Azure Integration capability lets Azure services to be seamlessly leveraged for Microsoft hybrid features and capabilities.
Ease of Hybrid Cloud Deployment
Azure innovation anywhere from edge to core to cloud.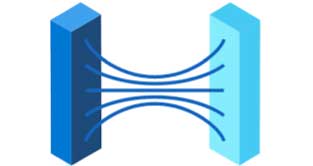 Azure
Single control plane with
Azure Arc
Bring Azure services
to any infrastructure
Modernize
datacenters with
Azure Stack
Extend to the edge
with Azure IoT
Make your infrastructure hybrid.
Extend your datacenter to the cloud and manage Azure Stack HCI hosts, virtual machines (VMs), and Azure resources side by side in the Azure portal. Make your infrastructure hybrid by seamlessly connecting it to Azure services such as Azure Backup, Azure Security Center, and Azure Site Recovery.
Easy to manage HCI solution
Simplify your operations by using an easy-to-manage HCI solution. Use a built-in deployment GUI and existing Windows Server and Hyper-V skills to build your hyperconverged infrastructure. Automate completely scriptable management tasks using the popular cross-platform Windows PowerShell framework.
Enterprise scale at a great price performance
Get infrastructure modernization, consolidate virtualized workloads, and gain cloud efficiencies on premises. Optimize your costs based on your needs with a flexible per-core subscription. Get Windows Server 2008/R2 and 2012/R2 Extended Security Updates (ESUs) for free Azure stack HCL. Achieve higher throughput with your demanding SQL Server workloads.
Deployment flexibility
Select the deployment scenario that's best for your environment, such as an appliance-like experience, a validated node solution. Manage your solution using Azure or familiar management tools.
ThinkAgile MX use cases
Run workloads from your branch office to the edge:
Meet the evolving IT demands of branch offices, retail stores, and field locations at an affordable cost.
Support large-scale virtual desktop implementations:
Use remote desktop services, highly available virtual machines (VMs), and integrated scalable storage to support your large-scale virtual implementations.
Optimize the performance of virtualizing SQL Server:
Deploy and manage demanding SQL Server workloads running on hyperconverged infrastructure to get best of class performance.
Improve security with trusted enterprise virtualization:
Select the deployment scenario that's best for your environment with a turn-key experience. Use virtualization-based security and certified hardware to help protect sensitive workloads.
Deploy a tightly integrated Kubernetes–enabled platform:
Enable automated deployment and management of containerized apps by running Kubernetes clusters on your hyperconverged infrastructure.
Azure Stack CI: Use Cases
Branch office and edge scenarios
Grocery Retailer
Background:

legacy Hyper-V x 2
servers, not clustered, not
hyperconverged, local storage only,
hundreds of stores

Workloads:

SC Configuration
Manager DP, Print server, POS
transactional software and database,
inventory system, store control
systems and IoT

Needs:

resiliency/fault tolerance,
hybrid model to attach cloud services,
fleet management, platform to
modernize applications (K8s)

Plan:

migrate VMs to 2 node AzS HCI
cluster, improve perf/reliability, future
proof, Azure billing simplicity

HW Config:

MX1020 with one-socket
8 core processors for grocery store
Clothing Retailer
Background:

VMware shop, no hybrid
management, no clustering (too
expensive), thousands of store
locations

Workloads:

POS system, theft
deterrent system (video, proximity),
discounting/coupon/reward systems

Needs:

fault and latency tolerance,
fleet management, modern POS
support, delegation of operations
functions, basic GPU functions for
inferencing, basic IoT support

Plan:

upgrade to modern, edge
servers, right-size h/w core count to
workload needs, 2 node AzS HCI cluster

HW Config:

MX1020 with one-socket
8 core processors for grocery store
Manufacturer
Background:

mix Nutanix (ESX) and
Hyper-V shop, manufacturing and
distribution centers around the US, 2
datacenters and ~30 "edge" sites

Workloads:

Warehouse Management,
ERP systems and other various LOB apps
+ infra: file/print and authentication

Needs:

desire move to opex acquisition
model and pay-for-use aligned to cloud
migration, support for varied connectivity in some sites

Plan:

replace SAN in DC with HCI and
deploy 2 node clusters to edge, move to
hybrid management to improve IT ops

HW Config:

MX3520 with dual-socket
Intel Xeon Gold 6248 processors for data
center, MX1020 with 8 core processors
for manufacturing site
Azure Stack CI: Use Cases
Datacenter modernization scenarios
Technology services industry
Background:

software developer
internal IT to enabled build/production,
billing and support systems

Workloads:

build systems, developer
support, customer-facing technical
support, LOB apps and large file
services

Needs:

massive capacity and robust
performance of customer-submitted
"dump" files for reproduction and
debugging

Plan:

upgrade existing Hyper-V servers
to Azure Stack HCI, expand cluster size
and storage capacity, leverage Stretch
Cluster between 2 datacenters for fault
tolerance

HW Config:

8-node MX3520 with
dual-socket Intel Xeon Platinum 8276
processors
Healthcare organization
Background:

multi-hospital and clinic
with Hyper-V and 3rd party
disaggregated storage (migrated
from VMware) and strong Azure push
for some workloads

Workloads:

EPIC, SQL and Oracle
DBs, LOB apps, AD, VDI, a few
Linux apps

Needs:

hardware refresh, move to
modern HCI model, leverage Azure
investment to manage on-prem
as direction

Plan:

ramping on Azure Stack HCI
storage feature knowledge in-house,
looking for integrated systems with
pre-installed HCI to modernize infra

HW Config:

MX3520 with dual-socket
Intel Xeon Gold 6238 processors for
hospital, MX1020 with 1x 16 core
processors for clinic
Private education institution
Background:

one campus, 2 buildings,
legacy iSCIS SAN, <100 VMs

Workloads:

LOB apps primarily on
Windows, file and collaboration services
for students, and SC for management

Needs:

refresh aging hardware and
upgrade to modern HCI stack while
leveraging their existing operational skills

Plan:

replace SAN storage with Azure
Stack HCI and add Stretch Cluster for
automation of site resiliency, utilize
Windows Admin Center to deploy HCI
and Stretch Clustering

HW Config:

4-node MX3520 with
dual-socket Intel Xeon Gold 6248
processors
Deliver Azure Stack HCI use Cases seamlessly via Lenovo
Cloud Marketplace (CSP)
Azure Monitor
Branch office
and edge
General-purpose
Kubernetes
Azure Update
Virtual desktop
infrastructure
Azure Backup
High-performance
SQL Server
Azure File
Sync
Azure Security
Center
Trusted enterprise
Integrated security
Identity & Access
Multi-factor authentication via SAML
Role-based access controls
Audit logging
Data Protection
Native data-at-rest encryption
FIPS 140-2 validated encryption modules
Built-in Key management
Integrated Security Baseline & Audit
Factory-applied Integrated Security baselines
Standards-based configuration
Native audit and self-healing capabilities


Experience the Benefits of ThinkAgile MX As-a-Service
The on-premises, pay-as-you-use Data Center with Lenovo TruScale
One provider
Plan, procure and run your entire
infrastructure simply, with a single point of
global accountability and predictable costs.
Complete pay as you
go solution
Acquire the Lenovo hardware
and Microsoft software together
on a SaaS / Subscription model.
Full Maintenance, Support & Management
End to end services including installation,
deployment, configuration and managed
services
Secure by nature
Lenovo's foundational security
approach protects everything,
everywhere, all the time.
Absolute Control
Real-time insights that help drive efficiency,
with less time in the weeds and more time for the big picture.
Constant ROI
End to end services including
installation, deployment, configuration
and managed services.
Infrastructure Lifecycle Services:
From the data center to the edge
please enter the number between 1 to 6
1. Discover
Workshop sessions to review your primary goals and objectives.
2. Design
Solution Architecture

Capacity Planning

Best Recipe Development
Architect the entire solution, end to end, to meet your needs.
3. Implement
Hardware Installation

Migration

Deployment
Lenovo will manage the hardware installation, data migration and deployment of your solution.
4. Support
Warranty Upgrade/Extension

Premier Support

Technical Account Manager

Enterprise Server Software

Your Drive Your Data
Expert support for you with our warranty upgrade/extension offerings, single point of contact service through Premier Support and technical expertise with Technical Account Manager.
5. Optimize
Managed Services

Firmware/Best Recipe Update

Preventative Maintenance

Health Check
Lenovo will manage and monitor your data center infrastructure, perform firmware/best recipe updates, preventative maintenance and health checks.
6. Retire
Hardware Deinstallation

Asset Recovery:

Recycling/Disposal

Data Sanitization

Drive Destruction
Recovery programs to provide you with potential monetary value for your older assets, with rigorous world standards.
ThinkAgile Advantage Support
Offers our customers a superior, single point of contact support experience
ThinkAgile Advantage Support
94 Markets and 11 different languages
Skilled ThinkAgile technicians serve as a single point of contact
Dedicated ThinkAgile phone number, live chat, and case management system
24x7x365 remote support
Collaborated 3rd party software support
Dedicated support for all hardware and software issues
ThinkAgile Advantage Deployment
Designed deployment that ensures accelerated time to value
End to end ownership by Lenovo Professional Services teams
Post deployment documentation & knowledge transfer
ThinkAgile Advantage is included as the base warranty in the ThinkAgile MX Integrated System for 3 years, after which customers have the option to purchase Premier Support for a consistent 4 & 5 year warranty experience.
From retail and manufacturing to healthcare and tech, we work in different industries to provide customized solutions for our clients.
Explore some of our most recent projects...
Lenovo + Microsoft
The strong engineering collaboration between Lenovo and Microsoft ensures that the hardware and software delivered are maximally reliable and performant. Lenovo's leadership in reliability, customer satisfaction, and performance, combined with Microsoft's leadership in software and cloud services, continues to deliver innovative data center solutions and lower TCO for our customers.
Learn more about our partnership : Lenovo and Microsoft Alliance