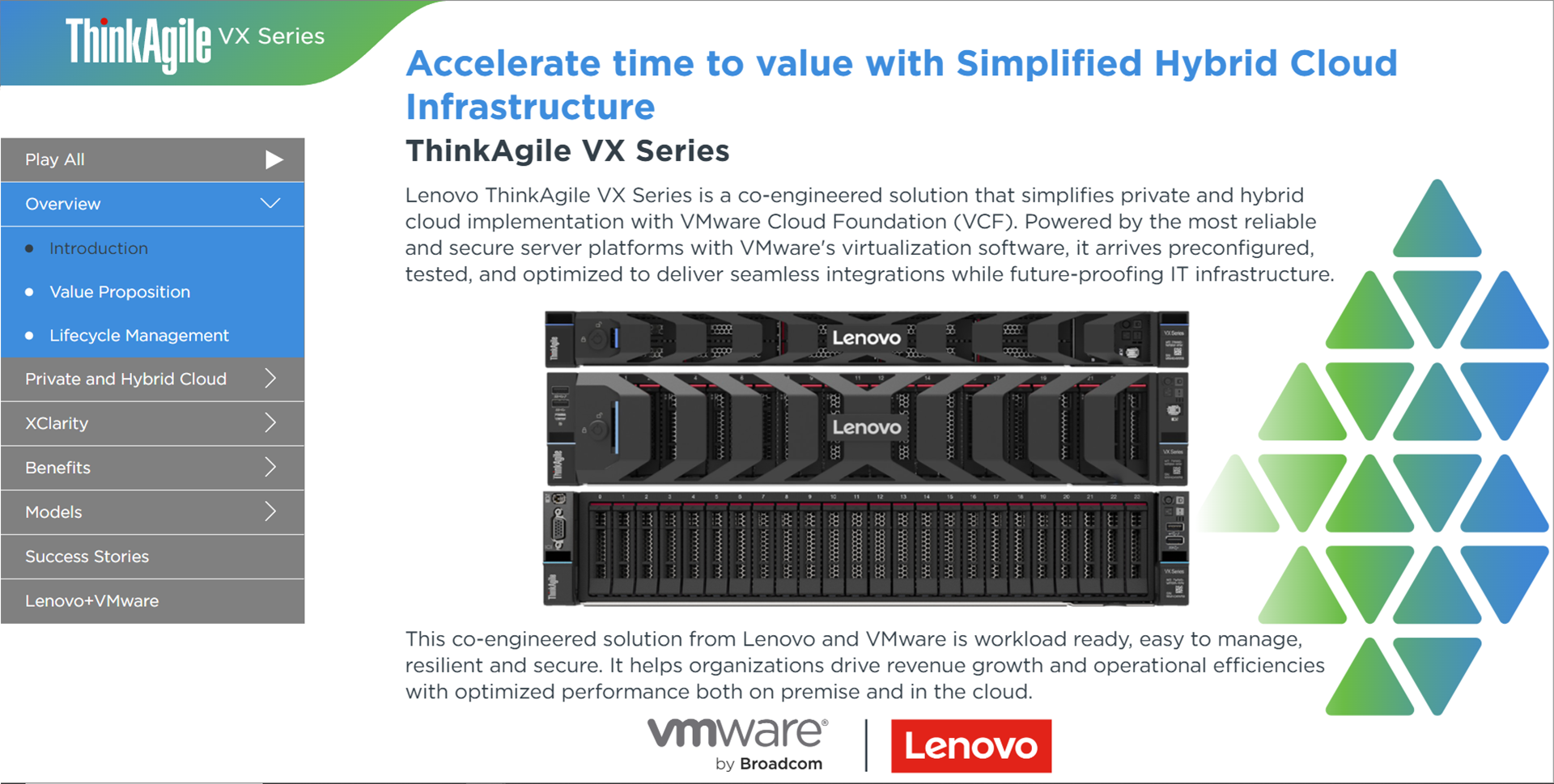 VX Series
Simplify IT infrastructure and accelerate time-to-value
with ThinkAgile VX Series
Lenovo ThinkAgile VX Series is a turnkey hyperconverged infrastructure (HCI) solution, tested and validated for VMware vSAN compliance. Powered by the most reliable and secure server platforms and VMware's virtualization software ecosystem, it features next-generation technology to future-proof infrastructures and enable deep integration across the stack.
Together, this solution, from Lenovo and VMware, helps organizations keep up with workload capacity and performance needs to drive revenue growth and efficiencies, by scaling with ease of management, across the infrastructure.
ThinkAgile VX Value Proposition
Avoid HCL lookups, Turnkey HCI solution, Shipped with Certified Firmware only
Simplified Management with vLCM, ESXi Lifecycle Updates, Best Recipe Firmware & Driver Updates, System Monitoring & Hardware Topology View
VX Deployer Tool, Standardized Deployment with Deployment Services
Certified Hardware and Firmware, Perfect Building Block for Private, Hybrid and Multi-Clouds
Consolidate on Multi-Cloud Ready Infrastructure
Management
Clusters
Databases
(SQL/Oracle)
Private Cloud
Public Cloud
Efficient, dedicated and secure
Lenovo's ThinkShield delivers essential integrated security for hardware data and more.
Secure business
process
Secure product
design
Secure supply
chain
Secure hardware foundation
ThinkAgile VX Lifecycle Management Enhancements
Provides operational transformation via simplified deployment and automated lifecycle management through integration with VMware vSphere Lifecycle Manager ™ (vLCM)
reduction in
time to deploy
Wizard based experience reduces manual errors. Built in intelligence for configuration settings. Deploy a 4-node cluster ˂ 4 hrs
degree visibility
Easy to follow alerts and detailed health monitoring and diagnostics removes any downtime risk
touch automated
updates
One click upgrade for entire cluster. Maintain HW & SW best recipe and HCL & audit compliance
Key Values
End-to-end simplified experience via Day-0 automation and operational intelligence to proactively monitor and manage cluster health for increased uptime.
What is vSAN - A Foundational
Element of Private and Public Clouds
Core HCI
vSAN + vSphere
"Hyperconverged infrastructure (HCI) should be the default choice for storage…"
vSphere
vSAN
Full Stack HCI
VMware Cloud Foundation
"76% of IT organizations are committed to hybrid cloud as a long-term strategy…"
SDDC Mgr.
Tanzu
vRealize
NSX
vSphere
vSAN
Hybrid/Multi-Cloud
Integrated On-Prem and Public Cloud Solution
Tanzu
vRealize
NSX
vSphere
vSAN
vSphere
vSAN
VMware vSAN Addresses IT Needs
Simplifies
provisioning and
storage management
Supports VMs
and Containers
Improves IT
productivity
First step to
Hybrid Cloud
Top 10 reasons to enable increased adoption
vSphere / vSAN
Fastest path to modern apps
vSphere with Tanzu on ThinkAgile VX enables you to run your kubernetes workloads for modern applications, on-premises, with VMware Cloud Foundation all the way through to the VMware Cloud.
Secure audits and account management
Deliver seamless enterprise and multi-factor authentication with Identity Federation.
Tighten physical infrastructure security
vSphere Trust Authority provides the building blocks for attestable hardware-based trust and security.
Take on AI/ML workload demands in real-time
Create a shared pool of GPUs for higher device utilization, greater flexibility, and larger cost savings.
Simplify software patching and hardware upgrades
Use vSphere Lifecycle Manager (vLCM) to discover, manage, and upgrade VMware software and firmware from the vSphere GUI or a REST API.
Reduce complexity and increase scale
New vSphere tools and REST APIs increase consolidation, flexibility, and automation for easy configuration access and maintenance.
Maximize performance and efficiency
Improved vSphere Dynamic Resource Scheduling (DRS) logic achieves better consolidation, workload placement, and balancing.
Proactive support technology and services
Get comprehensive analytics and support with Skyline Health for vSphere to resolve potential issues before they impact operations.
Flexibility to run any app on any cloud
From the data center, to the cloud, to the edge; track workload migration and federate corporate identities in a single view.
A solid HCI platform for modern applications
vSAN delivers a high-performance and cost-efficient storage for both traditional and cloud-native applications to future-proof infrastructure and reduce cost.
Fast, flexible and scalable
Deploy infrastructure faster and with less effort. Lenovo XClarity makes short work of administrative tasks.
In-band and out-of-band updates for system and adapter firmware

Clear intuitive dashboards

At-a-glance status visualizations

Easy access to common system actions

HTML-5 based graphical User Interface and Remote Control

Eliminates downtime in vSphere clusters
Benefits of XClarity Integrators for VMware
XClarity Integrator for
VMware vCenter
View, monitor and manage Lenovo infrastructure on a familiar dashboard

Non-disruptive rolling firmware updates for ThinkAgile VX Series

Obtain and apply Best Recipes to ThinkAgile VX Series products
XClarity Integrator for
Aria Automation Orchestrator (formerly vRealize Orchestrator)
Installation and Configuration of ESXi

Visibility into managed endpoint inventory information and status
XClarity Integrator for
Aria Operations for Logs (formerly vRealize Log Insight)
Allows Lenovo XClarity Administrator (LXCA) and all entities managed by LXCA to forward SysLogs to Log Insight for capture and analysis
Fast, flexible and scalable
Deploy infrastructure faster and with less effort. Lenovo XClarity makes short work of administrative tasks.
Consolidate virtual and physical infrastructure management using your familiar console
Discovery
Monitoring
Firmware updates
Configurations
Eliminate downtime in vSphere clusters
Automate rolling reboots & firmware updates
Automate evacuation of VMs from impacted hosts based on user-defined events
Why ThinkAgile VX
Flexible Options
General purpose and application-specific models for every use case
Remove Guesswork
Engineering systems built for optimal performance
Firmware Best Recipes
Seemless updates in vSphere Lifecycle Manager (vLCM) with XClarity Integrator
Worry-Free upgrades
Avoid expensive downtimes. No need to deploy the firmware in test clusters
Single Point of Support
ThinkAgile Advantage Support included with ThinkAgile VX Integrated Systems
One Back to Pat
Avoid panic during outage with faster service recovery
Use Cases
Data Center Modernization
Hardware Refresh (Server / Storage)
VMware Renewals / Expansions
Data Center / Workload Consolidation
Infrastructure Standardization
Simplifying Operations
Merger & Acquisitions / Greenfield Data Center
Artificial Intelligence and Machine Learning (AI & ML) Workloads
Modern Applications
Cloud Native Application Development
New Container / Kubernetes Deployment
Application Refactoring
Hybrid Cloud
Business Continuity / Disaster Recovery
Application Migration
Application Connectivity
Workload Mobility
Cloud Repatriation
Integrated security
Identity & Access
Multi-factor authentication via SAML
Role-based access controls
Audit logging
Data Protection
Native data-at-rest encryption
FIPS 140-2 validated encryption modules
Built-in Key management
Integrated Security Baseline & Audit
Factory-applied Integrated Security baselines
Standards-based configuration
Native audit and self-healing capabilities
Experience the Benefits of ThinkAgile VX As-a-Service
The on-premises, pay-as-you-use Data Center with Lenovo TruScale
One provider
Plan, procure and run your entire
infrastructure simply, with a single point of
global accountability and predictable costs.
Complete pay as you
go solution
Acquire the Lenovo hardware
and VMware software together
on a SaaS / Subscription model.
Full Maintenance, Support & Management
End to end services including installation,
deployment, configuration and managed
services
Secure by nature
Lenovo's foundational security
approach protects everything,
everywhere, all the time.
Absolute Control
Real-time insights that help drive efficiency,
with less time in the weeds and more time for
the big picture.
Constant ROI
End to end services including
installation, deployment, configuration
and managed services.
Infrastructure Lifecycle Services:
From the data center to the edge
please enter the number between 1 to 6
1. Discover
Workshop sessions to review your primary goals and objectives.
2. Design
Solution Architecture

Capacity Planning

Best Recipe Development
Architect the entire solution, end-to-end, to meet your needs.
3. Implement
Hardware Installation

Migration

Deployment
Lenovo will manage the hardware installation, data migration and deployment of your solution.
4. Support
Warranty Upgrade/Extension

Premier Support

Technical Account Manager

Enterprise Server Software

Your Drive Your Data
Expert support for you with our warranty upgrade/extension offerings, single point of contact service through Premier Support and technical expertise with Technical Account Manager.
5. Optimize
Managed Services

Firmware/Best Recipe Update

Preventative Maintenance

Health Check
Lenovo will manage and monitor your data center infrastructure, perform firmware/best recipe updates, preventative maintenance and health checks.
6. Retire
Hardware Deinstallation

Asset Recovery:

Recycling/Disposal

Data Sanitization

Drive Destruction
Recovery programs to provide you with potential monetary value for your older assets, with rigorous world standards.
ThinkAgile Advantage Support
Offers our customers a superior, single point of contact support experience
ThinkAgile Advantage Support
94 Markets and 11 different languages
Skilled ThinkAgile technicians serve as a single point of contact
Dedicated ThinkAgile phone number, live chat, and case management system
24x7x365 remote support
Collaborated 3rd party software support
Dedicated support for all hardware and software issues
ThinkAgile Advantage Deployment
Designed deployment that ensures accelerated time to value
End-to-end ownership by Lenovo Professional Services team
Post-deployment documentation & knowledge transfer
ThinkAgile Advantage is included as the base warranty in the ThinkAgile VX Integrated System for 3 years, after which customers have the option to purchase Premier Support for a consistent 4 & 5 year warranty experience.
Simplify IT and
accelerate
time-to-value
From retail and manufacturing to healthcare and tech, we work in different industries to provide customized solutions for our clients.
Explore some of our most recent projects...
Run any workload. At any scale. Anywhere
Find out more about ThinkAgile VX Series...
For more than 20 years, Lenovo and VMware have been partnering with customers around the world to optimize their investment in IT infrastructure and become cloud smart. Our innovative joint portfolio of fully tested and validated solutions combining infrastructure, software and services are designed for enabling faster insights, improving operational efficiency, and accelerating business value and innovation on your hybrid multi-cloud journey.
Get inspired by our customers transformation stories : Lenovo and VMware Case Study E-book
Learn more about our partnership : Lenovo and VMware Alliance