Introduction to Scale Computing HC3Positioning Information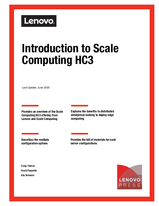 Authors
Updated
1 Jun 2020
Form Number
LP0657
PDF size
21 pages, 271 KB
Abstract
The Scale Computing HC3 solution on Lenovo servers includes storage, compute, hypervisor, data management, data protection, and disaster recovery capabilities for edge computing in distributed enterprises.
This paper describes the major features of the Lenovo-Scale Computing solution. The intended audience for this paper includes IT professionals, technical architects, sales engineers, field consultants, and partner engineers who plan to deploy this solution.
Table of Contents
Introduction
Core Data Center Challenges
Distributed Enterprise Challenges
Business Value
Solution Overview
HC3 Overview
HC3 Features
Deployment Examples
Hardware Components
Resources
Authors
To view the document, click the Download PDF button.
Change History
Changes in the June 1 update:
Added Core Data Center Challenges
Updated Business Value Section
Updated information in SR250, SR630 configurations
Added information of ST250 configurations
Related product families
Product families related to this document are the following: