Top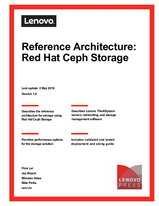 Authors
Finix Lei
Jay Bryant
Miroslav Halas
Leo Liu
Published
2 May 2019
Form Number
LP1147
PDF size
29 pages, 773 KB
Abstract
Red Hat Ceph Storage is a scalable, open, software-defined storage platform that combines the most stable version of the Ceph storage system with deployment utilities and support services. Red Hat Ceph Storage is designed for cloud infrastructure and web-scale object storage. This Reference Architecture describes a storage solution based on Red Hat Ceph Storage software with Lenovo ThinkSystem hardware.
The target audience for this Reference Architecture is system administrators or system architects. Some experience with OpenStack and Ceph technologies may be helpful, but it is not required.
Table of Contents
Introduction
Business problem and business value
Requirements
Architectural overview
Component model
Operational model
Appendix A: Lenovo bill of materials
Resources
To view the document, click the Download PDF button.
Related product families
Product families related to this document are the following: