Top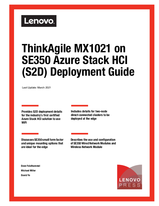 Authors
Updated
30 Mar 2021
Form Number
LP1298
PDF size
69 pages, 3.0 MB
Abstract
As the high demand for storage continues to accelerate for enterprises in recent years, Lenovo® and Microsoft have teamed up to craft a software-defined storage solution leveraging the advanced feature set of Windows Server 2019 and the unique characteristics of the Lenovo ThinkSystem™ SE350 Edge Server™. In addition, we have created the Lenovo ThinkAgile™ MX1021 on SE350 solution that contains only server components that have been certified under the Microsoft Azure Stack HCI Program to run Microsoft Storage Spaces Direct (S2D) properly.
This deployment guide provides insight to the setup of ThinkAgile MX1021 on SE350 for Azure Stack HCI solutions. It guides the reader through a set of well-proven procedures leading to readiness of this solution for production use. In addition to providing the steps required to use one of the Wired Network Modules available for the SE350, we discuss the unique capabilities available using the Wireless Network Module. Using the Wireless Network Module allows for deployment of a two-node Azure Stack HCI cluster without any high-speed switches, as well as the ability to use an available WiFi network for north-south corporate traffic into and out of the cluster. Using this approach, the ThinkAgile MX1021 solution can be implemented at the edge, wherever a corporate WiFi network is available.
In this document we focus on deployment of a two-node direct-connected Azure Stack HCI cluster. For three and four node clusters using the SE350 connected via one or more switches, refer to our more general Azure Stack HCI (S2D) Deployment Guide, which can be found at https://lenovopress.com/lp0064.
Table of Contents
Introduction
ThinkAgile MX1021 on SE350
Solution deployment
General hardware preparation
Network preparation
Create failover cluster
Enable and configure Storage Spaces Direct
Summary
Authors
To view the document, click the Download PDF button.
Change History
Changes in the March 2021 Update:
Added information about SED Authentication Key backup
Added steps to enable/disable IPMI over KCS
Related product families
Product families related to this document are the following: