Top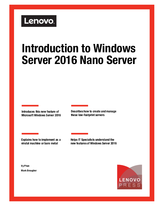 Authors
Updated
23 Feb 2016
Form Number
LP0082
PDF size
13 pages, 646 KB
Abstract
With Windows Server 2016, Microsoft has introduced a new installation option for Windows Server, called Nano Server, the concept of which is a zero footprint model that delivers faster speed and lower resource consumption.
This paper provides details on how to create a Nano Server image, then use the image to deploy either as a Hyper-V virtual machine or bare metal to physical host. The intended audience of this paper is IT professionals, technical partners, and Microsoft Azure users.
This paper is part of a series of technical papers on the new features of Windows Server 2016.
Table of Contents
Introduction
Creating a Nano Server image
Injecting new drivers
Launching Nano Server a VM guest
Connecting to the Nano Server using PowerShell
Joining Nano Server to a Domain
Installing Nano Server to a bare metal host
Running Nano Server in Azure
Conclusion
Related product families
Product families related to this document are the following: