Top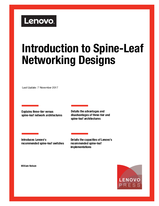 Author
Updated
7 Nov 2017
Form Number
LP0573
PDF size
25 pages, 595 KB
Abstract
The traditional three-layer network topologies are losing momentum in the modern data center and are being supplanted by spine-leaf designs (also known as Clos designs after one of the original researchers, Charles Clos). This is even despite three-layer familiarity, scalability and ease of implementation.
Why is this happening? Organizations are seeking to maximize the function and utilization of their data centers leading to architecture optimized for software defined and cloud solutions.  The spine-leaf architecture provides a strong base for the software defined data center optimizing the reliability and bandwidth available server communications.
This document describes the following:
The traditional three-layer and spine-leaf architectures
The advantages and disadvantages of each architecture approach
Lenovo's spine-leaf solutions
This paper is for network architects and decision makers desiring to understand why spine-leaf designs are important to the modern data center and how Lenovo Networking products can be utilized in these designs.
Table of Contents
Approaches for Network Designs
Lenovo spine-leaf
Conclusion
Appendix: Lenovo spine-leaf capacities
Acronyms
Change history
Change History
November 7 update:
Added the ThinkSystem NE10032 100 GbE spine switch
Added the ThinkSystem NE2572 25 GbE leaf switch
Related product families
Product families related to this document are the following: