SAP Business Process Applications and Lenovo ThinkSystem SR950 – A Perfect MatchArticle
Authors
Updated
17 Oct 2018
Form Number
LP0853
PDF size
8 pages, 212 KB
Abstract
SAP and Lenovo have a strong and long partnership. The SAP business process software is an integrated suite of applications designed to optimize, execute, and align business and IT strategies. The Lenovo Solution for SAP Business Processing Applications provides a powerful platform for your mission-critical SAP Business Processing applications with World Record performance.
Change History
Changes in the October 17 update:
Introduction
SAP is the maker of one of the world's most popular suites of enterprise business software applications. It provides collaborative business solutions for all types of functions and industries. The Lenovo ThinkSystem SR950 provides and high performance, flexibility and reliability needed to run and manage these mission critical business applications.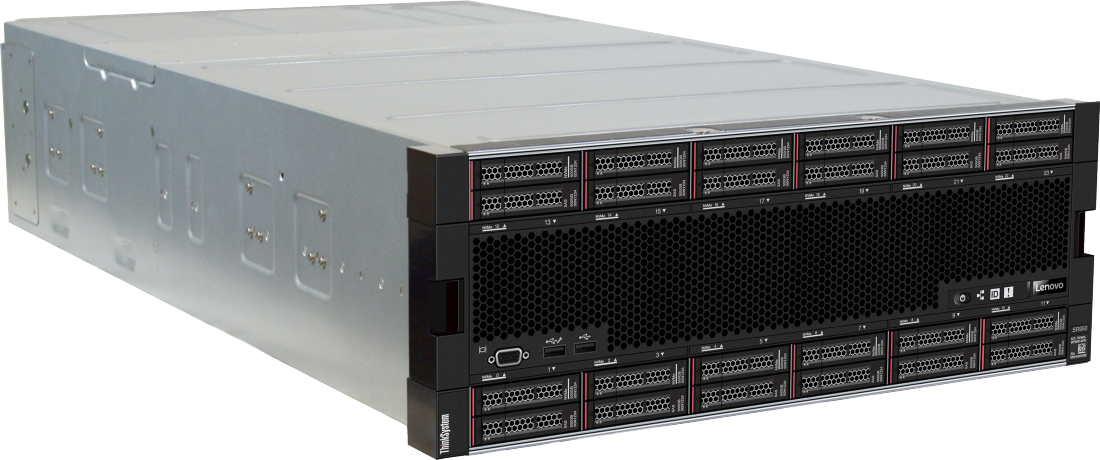 Figure 1. Lenovo ThinkSystem SR950
SAP and Lenovo Partnership
For years, Lenovo systems have provided differentiating advantages for diverse SAP application workloads powering the digital economy. Whether your business supports a high-performance data center or a small office, the Lenovo portfolio of x86 servers, storage, and software can help your organization to align and integrate processes, communicate with employees, partners, suppliers, and customers in new ways, improve efficiency, and fully use your IT investment to increase the value of your business.
SAP and Lenovo work jointly to ensure compatibility of Lenovo servers with SAP applications. Whether you are running legacy SAP Business Suite applications or new next generation SAP S/4HANA applications, Lenovo systems provide the scalability and mission critical reliability you need to run your business.
SAP Business Process Applications Summary
The SAP business process software is an integrated suite of applications designed to optimize, execute, and align business and IT strategies. The software gives you the ability to perform essential end-to-end business processes, with modular applications, in the context of your industry. Each of the core SAP process applications offers functionality to expand, automate, and improve business efficiency. They support a broad range of processes for finance, human resources, manufacturing, procurement, product development, marketing, sales, service, supply chain management, and IT management.
The SAP business process applications include:
SAP Enterprise Resource Planning (ERP)

SAP ERP addresses the core business software requirements of the most demanding organizations, in all industries and sectors. The SAP ERP solution offers complete integration for the core business applications of any size organizations. An analytical tool helps with business decisions. It also provides the capability to manage financial databases, assets, cost accounting, production operations, and corporate services of an organization

SAP Customer Relationship Management (CRM)

SAP CRM provides a platform for marketing, sales, and service professionals to obtain complete customer intelligence that they can use to manage customers processes effectively. It enables multichannel customer interactions, including mobile (tablets and smartphones), Internet, and social media, and offers a dedicated communications infrastructure that helps to connect all users anytime, anywhere.

SAP Product Lifecycle Management (PLM)

SAP PLM helps companies manage, track, and control all product-related information over the complete product and asset lifecycle and throughout the extended supply chain. SAP PLM facilitates creativity and frees the process of product innovation from organizational constraints.

SAP Supply Chain Management (SCM)

SAP SCM enables adaptive supply chain networks by providing planning and execution capabilities to manage enterprise operations and visibility, collaboration, and radio frequency identification (RFID) technology to streamline and extend those operations beyond corporate boundaries. SAP SCM transforms traditional supply chains from linear, sequential processes into open, configurable, responsive supply networks across a globally distributed environment.

SAP Supplier Relationship Management (SRM)

SAP SRM integrates strategic practices for supplier qualification, negotiation, and contract management. It performs this task tightly and cost-effectively with other enterprise functions and their suppliers' processes through a single analytical framework and support for multichannel supplier enablement. SAP SRM accelerates and optimizes the entire end-to-end procure-to-pay process by supporting integrated processes and enforcing contract compliance, which results in realizable savings.

SAP industry applications

SAP industry applications address the requirements of specific business processes for many industries by complementing the basic business processes that are common to all large enterprises. The architecture and business functionality of the SAP Industry applications are a result of SAP in-depth understanding of industry-specific business requirements and the resulting business processes.
Lenovo Solution for SAP Business Processing Applications
The Lenovo ThinkSystem Solution for SAP Business Process Applications combines next-generation architecture, expanded memory and I/O capacity packaged in a modular form factor with mission critical capabilities.
These capabilities provide:
World record performance
Memory scalability to 12TB
Enterprise reliability
The Lenovo Solution for SAP Business Processing Applications provides a powerful platform for your mission-critical SAP Business Processing applications. Integrating hardware, software and memory advancements, and is designed to be faster, more agile and more resilient helping you to optimize your infrastructure investments to improve enterprise application performance.
SAP business processing applications play a critical role in delivering real-time, enterprise-wide business execution, productivity and intelligence. Running SAP business processing applications on the SR950 can help you optimize large SAP workload activities to:
Exploit growing volumes of structured and unstructured data
Increase visibility across departments and business silos
Improve your ability to access business intelligence and eliminate bottlenecks
Faster performance is certainly crucial to maintaining your competitiveness. However, it is a business reality that you will undoubtedly require more performance capabilities next year than you do now. The ThinkSystem SR950 is a proven performer with scalability from 2 to 8 processors in a single system and mission critical reliability ensures you have a platform that can scale with your business and keep your business up and running.
Sizing SAP Business Processing Applications
Sizing means determining hardware requirements such as memory, CPU power, disk space, I/O capacity, and network bandwidth. It is an iterative process to translate business requirements into hardware requirements, and is usually performed early in the project.
The SAP Quick Sizer is a web-based tool designed to make the sizing of SAP Applications easier and faster is available. The tool calculates CPU, memory, disk, and I/O resources based on throughput and number of concurrently active users. It has been developed by SAP in close cooperation with Lenovo and other platform partners and is free to use.
The implementations that the SAP QuickSizer uses are as follows:
Greenfield – New implementations without or with little experience with SAP software
Productive – An SAP upgrade, delta or migration.
Expert – Detail analysis typically requiring consulting and/or support.
With the SAP QuickSizer you can quickly translate business requirements into technical requirements. Simply fill in the online questionnaire, which is an up-to-date survey that is based on business-oriented figures. The results you obtain can help you select an economically balanced system that matches your company's business goals. This is especially useful for initial budget planning.
The Lenovo ThinkSystem SR950 can handle many workloads in a SAP Business Processing application environment including the database, application server and web/presentation server. These applications may be deployed bare metal or virtualized to take advantage of consolidation capabilities.
SR950 SAP World Record Performance
Benchmarks have shown that the SR950 is a performance leader when running SAP applications.
SAP Sales and Distribution (SAP SD) Benchmark
The SR950 is a proven performance leader. It has delivered world record 4 processor and 8 processor results on the SAP Sales and Distribution (SAP SD) Benchmark.
Read the SAP Sales and Distribution performance reports:
SAP Sales and Distribution (SD) Standard Application Benchmarks test the hardware and database performance of SAP applications and components. This benchmark shows a server's capability in enterprise resource planning environments processing business line items.
The benchmark models a sell-from-stock scenario creating a customer order with five line items and corresponding delivery with subsequent goods movement and invoicing. Results show the number of users, response time, and the amount of fully business processed line items per hour (SAPS), helping to determine sizing requirements.
SAP HANA (BWoH) Benchmark
The Lenovo ThinkSystem SR950 holds 12 performance world records with the 4 socket SAP HANA BWoH benchmark. This includes data load, query throughput and query runtime. Six of the records are new on the BWOH version 3 benchmark (1.3B and 5.2B records) and six are maintained on the BWOH version 1 benchmark (1.3B and 2.6B records).
Read the SAP HANA BWoH performance reports:
The SAP BW Edition for SAP HANA (BW/4HANA) Standard Application Benchmark is the latest addition to the list of SAP BW benchmarks and goes well beyond the scope and features used in the BW-AML benchmark. The new benchmark is designed to fully utilize the new capabilities of SAP HANA to process the benchmark workload. The benchmark consists of three phases data load, query throughput and query runtime.
Lenovo XClarity
Lenovo XClarity is a centralized resource management solution enabling administrators to deploy infrastructure faster and with less effort. XClarity provides automated discovery, monitoring, firmware updates and compliance, pattern-based configuration management, and deployment of operating systems and hypervisors to multiple systems.
The benefits of using Lenovo XClarity include:
Centralize & Simplify Resource Management
Increase Efficiency
Consolidate Infrastructure Management
Improve Agility
Conclusion
The Lenovo and SAP partnership and solutions delivers competitive advantages for SAP business applications and workloads. The ThinkSystem SR950 is the perfect server to run these applications providing high reliability, scalability and world record performance.
Further reading
For further reading, see these resources
About the authors
Randall Lundin is the Mission Critical Product Manager in the Lenovo Infrastructure Solutions Group. He is responsible for managing and planning Lenovo's 4-socket and 8-socket servers. Randall has also authored and contributed to numerous Lenovo Press publications in the Mission Critical space.
Tag Robertson is the Director of Global SAP Alliance and is responsible for Lenovo's strategic alliance and solution offerings including SAP HANA. He has been working with SAP for over 10 years delivering key solution offerings including SAP HANA and SAP Business Warehouse Accelerator and has over 30 years of experience delivering strategic IT solutions to the marketplace
Related product families
Product families related to this document are the following:
Trademarks
Lenovo and the Lenovo logo are trademarks or registered trademarks of Lenovo in the United States, other countries, or both. A current list of Lenovo trademarks is available on the Web at https://www.lenovo.com/us/en/legal/copytrade/.
The following terms are trademarks of Lenovo in the United States, other countries, or both:
Lenovo®
ThinkAgile
ThinkSystem
XClarity®
The following terms are trademarks of other companies:
Intel® and Xeon® are trademarks of Intel Corporation or its subsidiaries.
Microsoft® and SQL Server® are trademarks of Microsoft Corporation in the United States, other countries, or both.
Other company, product, or service names may be trademarks or service marks of others.