Top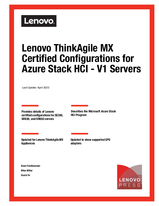 Authors
Updated
3 Apr 2023
Form Number
LP0866
PDF size
38 pages, 1.1 MB
Abstract
This document provides background information regarding the Microsoft Windows Server Software-Defined (WSSD) program for Windows Server 2016 and the Microsoft Azure Stack HCI program for Windows Server 2019, as well as the benefits of deploying certified configurations based on Lenovo® ThinkAgile™ MX Certified Nodes and Appliances. We focus on details of current Lenovo certified configurations for Azure Stack HCI that are based on ThinkSystem™ SE350 and SR650 servers, including processor, memory, network, and storage components available for each cluster node. This includes the following solutions:
ThinkAgile MX3520-H Hybrid Appliance
ThinkAgile MX3520-F All-Flash Appliance
ThinkAgile MX Certified Node on SR650
ThinkAgile MX1020-H Hybrid Appliance
ThinkAgile MX1020-F All-Flash Appliance
ThinkAgile MX1021-H Hybrid Certified Node
ThinkAgile MX1021-F All-Flash Certified Node
Looking for Lenovo ThinkAgile MX solutions that are based on our V2 servers? Check our companion document at http://lenovopress.com/lp1520.
Table of Contents
Introduction
Microsoft HCI certification overview
ThinkAgile MX Series solutions
Lenovo certified configurations for Microsoft S2D
Component selection
Network switches
Other recommendations
Summary
Change History
Authors
Notices
Trademarks
To view the document, click the Download PDF button.
Change History
Changes in the April 2023 update:
Updated certified storage device lists (Table 5 on page 24 and Table 6 on page 26)
Updated storage device EOL table (Table 8 on page 28)
Related product families
Product families related to this document are the following: