Top
Author
Published
22 Aug 2018
Form Number
LP0922
PDF size
5 pages, 284 KB
Abstract
This article describes a new Lenovo thermal heat transfer technology that has been enabled for use in the ThinkSystem SD530. This technology allows for the support of Intel Xeon processors with higher TDP values and lower power usage as well as acoustics. This use of this technology can improve data center PUE and ITUE and allow for increased system performance.
Introduction
Multi-node servers have seen increased end user adoption as the high-density form factor that can meet customer IO, storage, and compute needs. Systems like the Lenovo ThinkSystem SD530 use standard PCIe form factors for I/O and an enclosure with shared power and cooling which means financial benefits both with capital expense and operating expense.
With multi-node servers, the dense form factor makes it is difficult to support of high-end CPUs, large memory, and high-performance I/O. In particular, cooling the CPU can be especially challenging due to the narrow node width where inline CPU placement is required. With an inline CPU layout, the rear CPU has a much higher inlet temperature due to the hot airflow off the front CPU. This can limit CPU choice due to thermal design power (TDP) or ambient temperature requirements. The rear CPU Inlet temperature can be reduced with higher fan speeds, however, this causes fan power to increase significantly. Higher fan speeds also increase acoustic levels and may cause sound quality issues.
Lenovo Thermal Transfer Module
Lenovo has developed the Thermal Transfer Module (TTM), a new high performance heat sink with an extended remote heat displacement area for the ThinkSystem SD530 shown in the figure below.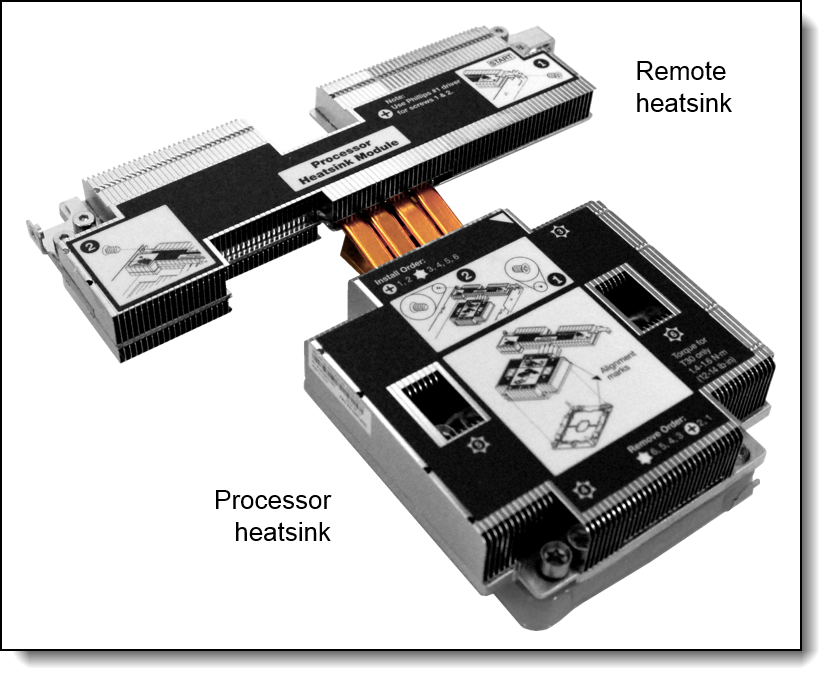 Figure 1. Thermal Transfer Module
The Thermal Transfer Module allows the ThinkSystem SD530 to support top bin 205W TDP Intel Scalable CPUs with up to 12 DIMMs and 4x2.5" SATA or NVMe drives at 35 °C at full performance. The ThinkSystem SD530 optional GPU tray is also supported allowing simultaneous support of 205W TDP CPUs with GPUs.
Benefits
The new Thermal Transfer Module improves both the performance and efficiency of the ThinkSystem SD530 due to improved heat transfer and lower average inlet heat sink temperatures with the added remote heat displacement area. The improvement in performance and efficiency with the new Thermal Transfer Module results in lower fan power and acoustic levels compared to the standard heat sink as show in the table below. The reduced fan power increases the server ITUE (Information Technology Utilization Effectiveness).
Table 1. Comparison of Fan Power and Acoustics
Heat Sink
Fan Power (Watts)
Fan Speed 60mm (RPM)
Fan Speed 80mm (RPM)
Sound Power (Bels)
Heatsink comparison using 205W TDP processors
Standard Heat Sink (205W TDP)
300W
19,500
15,500
9.6
High Performance TTM Heat Sink (205W TDP)
175W
16,000
12,500
9.1
Heatsink comparison using 150W TDP processors
Standard Heat Sink (150 W TDP)
135W
14,500
11,000
8.8
High Performance TTM Heat Sink (150W TDP)
50W
9,600
7,500
8.1
At typical data center ambient temperatures (25 °C ±2 °C), with the new Thermal Transfer Module, server fan power can be reduced by 85W for 150W TDP CPUs and sound pressure can reduced 8.1 Bels which is an approximate 70% reduction in loudness. The Thermal Transfer Module also reduces server airflow which can improve PUE (Power Utilization Effectiveness) at a data center with higher CRAC/CRAH heat exchanger efficiency and reduced CRAC/CRAH fan power. 
Summary
The new Thermal Transfer Module heat sink technology is being introduced by Lenovo that allows 205W CPU TDP support for the ThinkSystem SD530 at 35°C at full performance with traditional air-cooling. This Thermal Transfer Module technology offers customer benefits with lower system power which reduces the server ITUE and system acoustics. The new Thermal Transfer Module can also improve the server data center PUE for some customer applications.
ThinkSystem SD530
The Lenovo ThinkSystem SD530 is an ultradense and economical two-socket server in a 0.5U rack form factor. With four SD530 servers installed in either the ThinkSystem D2 Enclosure or ThinkSystem Modular Enclosure, you have an ideal high-density 2U four-node (2U4N) platform for enterprise and cloud workloads.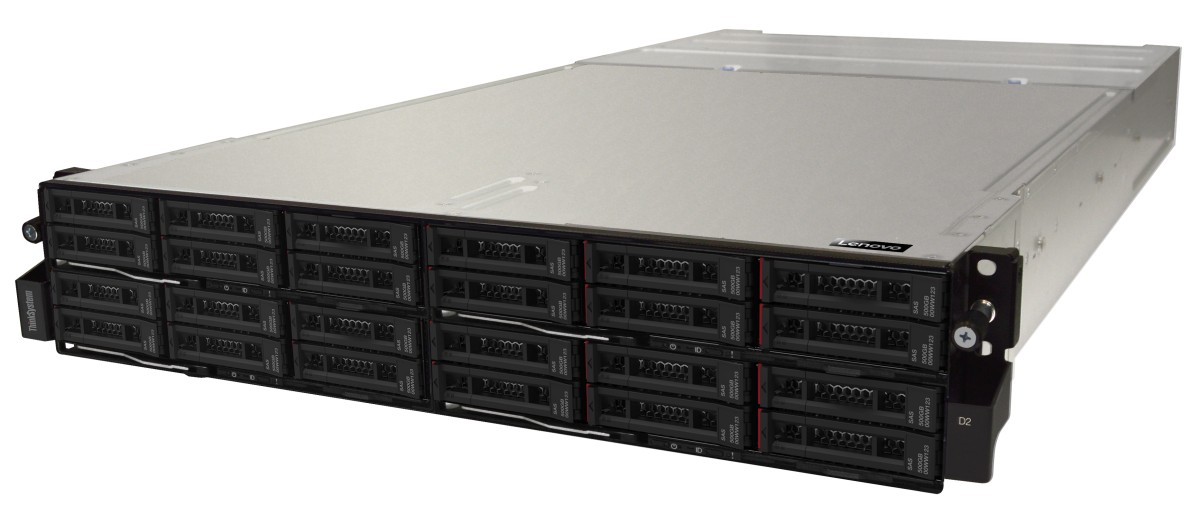 Figure 2. Four ThinkSystem SD530 servers installed in a D2 Enclosure
For information on the ThinkSystem SD530 server, see these resources:
Related product families
Product families related to this document are the following:
Trademarks
Lenovo and the Lenovo logo are trademarks or registered trademarks of Lenovo in the United States, other countries, or both. A current list of Lenovo trademarks is available on the Web at https://www.lenovo.com/us/en/legal/copytrade/.
The following terms are trademarks of Lenovo in the United States, other countries, or both:
Lenovo®
ThinkSystem®
The following terms are trademarks of other companies:
Intel® and Xeon® are trademarks of Intel Corporation or its subsidiaries.
Other company, product, or service names may be trademarks or service marks of others.