Disaster Recovery Solution for Lenovo ThinkAgile VX with VMware Cloud on AWSPlanning / Implementation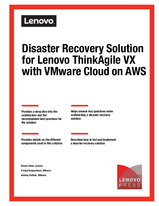 Published
24 Aug 2018
Form Number
LP0947
PDF size
17 pages, 387 KB
Abstract
Lenovo® ThinkAgile™ VX Series and VMware Cloud on AWS with VMware Site Recovery Service helps you build a resilient disaster recovery solution. This document provides a deep dive into the architecture and the best practices that should be followed when implementing the solution. It will also help answer key questions needed to implement a disaster recovery solution while describing the different software components needed to test and implement this solution.
The intended audience for this document includes sales engineers, field consultants, IT managers and partner engineering personnel. This document is also intended for customers who want to take advantage of all the best practices and guidelines for creating a resilient disaster recovery solution using ThinkAgile VX and VMware Cloud on AWS.
The paper is the result of a collaboration between Lenovo and VMware.
Table of Contents
Introduction
Lenovo ThinkAgile VX
VMware Cloud on AWS
VMware Site Recovery service
Solution configuration
Solution verification
Best practices
Conclusion
Resources
Authors
To view the document, click the Download PDF button.
Related product families
Product families related to this document are the following: