Top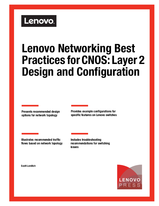 Author
Updated
22 May 2019
Form Number
LP1005
PDF size
39 pages, 241 KB
Abstract
This paper presents recommended topologies and configurations for the layer 2 portion of a network topology which includes Lenovo® switches with CNOS. It includes discussion of connectivity to upstream routed environments and downstream servers.
This document is intended for network architects and engineers who work for end-user organizations or for Lenovo and its business partners. The document will be most useful for those who have experience working on network design andr implementation and are familiar with Ethernet and its associated protocols.
Table of Contents
Introduction
Virtual Link Aggregation Group considerations
Layer 2 failover
IGMP Snooping considerations
Link aggregation
Spanning Tree Protocol
Storm Control considerations
BootP and DHCP relay
Author
To view the document, click the Download PDF button.
Change History
Changes in the May 22 update:
Related product families
Product families related to this document are the following: