Top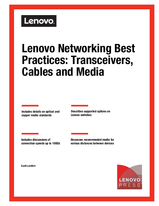 Author
Published
4 Feb 2019
Form Number
LP1071
PDF size
16 pages, 241 KB
Abstract
This paper describes the available options for connecting Lenovo® switches to each other and within a network. The recommended options depend on the desired speed of the connection and the distance between devices. This paper is intended for network designers and administrators who are involved in choosing the media to use in their network.
Table of Contents
Introduction
Considerations for cabling and transceivers
Considerations for low-level interface configurations
About the author
To view the document, click the Download PDF button.
Related product families
Product families related to this document are the following: