Top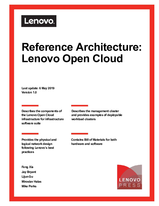 Authors
Feng Xia
Jay Bryant
Lijun Gu
Miroslav Halas
Published
6 May 2019
Form Number
LP1149
PDF size
39 pages, 948 KB
Abstract
The target audience for this Reference Architecture (RA) is system administrators or system architects who are looking for an integrated environment that makes deployment of an infrastructure such as Ceph and OpenStack, either for a lab environment or for production, easier, quicker, better automated, better supported, than the traditional, manually intensive approach.
Lenovo Open Cloud (LOC) is infrastructure for infrastructure (iFi) software that utilizes Lenovo ThinkSystem servers and switches. It allows the administrator to deploy both for virtualized and bare-metal workload clusters, dynamically add or remove servers, and just as quickly delete the cluster and reuse the hardware for a different use case. Lenovo Open Cloud, using a bootstrapping process, can also deploy itself.
This reference architecture describes the system architecture of the LOC. It focuses on LOC's management services, and how users can use them to build infrastructure such as Red Hat Ceph Storage (RHCS) clusters, and Red Hat OpenStack Platform (RHOSP) clusters. The core of LOC is based on Red Hat Hyperconverged Infrastructure for Virtualization (RHHI-V). Some experience with the Red Hat products such as RHOSP, RHCS, and RHHI-V may be helpful, but it is not required.
Table of Contents
Introduction
Business problem and business value
Requirements
Architectural overview
Component model
Operational model
Appendix A: Lenovo bill of materials
Resources
To view the document, click the Download PDF button.
Related product families
Product families related to this document are the following: