Implementing Intel Optane DC Persistent Memory on Windows Server 2019Planning / Implementation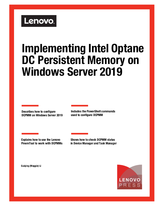 Author
Updated
16 Oct 2021
Form Number
LP1192
PDF size
19 pages, 924 KB
Abstract
Intel Optane DC Persistent Memory is based on Intel 3D XPoint non-volatile memory technology and is implemented in Lenovo® ThinkSystem™ servers. The use of DC Persistent Memory Modules (DCPMMs) enables software applications to take advantage of the larger memory capacities, data persistence and the resulting improved performance of the server.
This document shows how Microsoft Windows implements persistent memory, how to configure and manage DCPMM on Windows Server 2019, and how to utilize it in Hyper-V.
The intended audience of this document is IT professionals, technical architects and software engineers. It is expected that readers have some knowledge of persistent memory and the using Windows Server tools such as PowerShell and Task Manager.
Table of Contents
Overview
Persistent Memory
DCPMM configurations
DCPMM Status Checking in different modes
References
To view the document, click the Download PDF button.
Change History
Changes in the October 16, 2021 update:
Correction to a command in "vPMEM (virtual persistent memory) support" on page 5
Related product families
Product families related to this document are the following:
Full Change History
Changes in the October 16, 2021 update:
Correction to a command in "vPMEM (virtual persistent memory) support" on page 5
First published: July 15, 2019