Top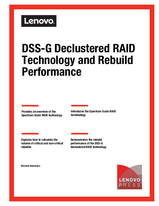 Author
Published
19 Sep 2019
Form Number
LP1227
PDF size
35 pages, 1.0 MB
Abstract
Lenovo Distributed Storage Solution for Spectrum Scale (DSS-G) is a high performance storage solution that combines IBM Spectrum Scale software with Lenovo servers, storage, and networking components. The DSS-G solution is available as hardware building blocks with a selectable number of disk storage enclosures and a variety of disk drive types.
The main distinguishing feature of the DSS-G solution is its sophisticated software RAID technology, which is implemented in the IBM Spectrum Scale RAID layer. This document provides an overview of the Spectrum Scale RAID technology, explains how the RAID theory applies to the various Lenovo DSS-G building blocks, and demonstrates the rebuild performance of the technology under single drive failures and multiple drive failures.
This paper is intended for solution architects and storage administrators who need to understand the technology in order to make informed DSS-G sizing and configuration decisions. The paper will be most useful for technical professionals who have a working knowledge of enterprise storage systems and are familiar with the basic features of IBM Spectrum Scale and DSS-G.
Table of Contents
Introduction
Spectrum Scale RAID overview
Understanding Spectrum Scale RAID terminology
DSS-G building block layout
Determining the volume of critical and non-critical rebuilds
Rebuild performance measurements
Summary
Appendix: Conversion of Decimal and Binary Units
Additional resources
Author
To view the document, click the Download PDF button.
Related product families
Product families related to this document are the following: