Using a GPU as a Console Display Adapter on a Lenovo ThinkSystem Server running LinuxPlanning / Implementation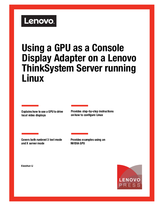 Author
Published
27 Sep 2019
Form Number
LP1228
PDF size
11 pages, 177 KB
Abstract
All Lenovo® ThinkSystem™ servers have an onboard video adapter to drive the video display attached to the server's VGA port. Many ThinkSystem servers also support a Graphics Processing Unit (GPU), and some of these GPUs offer additional video ports (typically DisplayPort or HDMI).
GPUs on servers are typically used to offload tasks off the server CPU, including AI, VDI, and rendering tasks. Customers may want to also use the GPU to drive one or more monitors locally attached to the server, however, most Linux Server OS releases do not easily enable such local display support.
This paper provides guidance on enabling GPUs for use with local displays. The paper is for Linux administrators wishing to use a GPU installed in a ThinkSystem server to drive one or more local video monitors.
Table of Contents
Introduction
Enabling a GPU in text mode
Enabling a GPU when logging in to Linux via the GUI
References
Author
To view the document click the Download PDF button.
Related product families
Product families related to this document are the following: