Top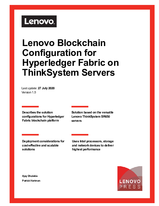 Authors
Updated
27 Jul 2020
Form Number
LP1244
PDF size
10 pages, 252 KB
Abstract
Blockchain technology promises to improve many aspects of how organizations conduct business. It provides a transaction data record that is transparent and unchangeable. One of the key software frameworks fueling the exploration and adoption of enterprise blockchain services is Hyperledger Fabric. Hyperledger is the open source consortium advancing business blockchain technologies hosted by The Linux Foundation and Fabric is one of several frameworks hosted by Hyperledger. Because of its focus on B2B processes, Hyperledger Fabric is one of the most prominent enterprise blockchain offerings in existence today.
This document provides a predefined and optimized hardware infrastructure for high performance implementation of Hyperledger Fabric software. This configuration guide provides planning, design considerations, and best practices for implementing Hyperledger Fabric with Lenovo and Intel products.
Table of Contents
Introduction
Solution overview
Minimal Configuration Requirements
Why Intel Select Solutions
Resources
To view the document, click the Download PDF button.
Change History
Changes in the July 2020 update:
Intel Select Solution Certification
Related product families
Product families related to this document are the following: