New domain name... but no change to content or links
You may have noticed that we've moved the site from lenovopress.com to lenovopress.lenovo.com. All existing lenovopress.com links automatically redirect and will continue to work forever, and there is no need to update your existing bookmarks.
Using Intel Speed Select on ThinkSystem Servers Running LinuxPlanning / Implementation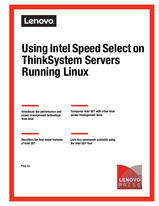 Author
Published
14 Apr 2021
Form Number
LP1465
PDF size
16 pages, 235 KB
Abstract
Intel Speed Select Technology is a processor-based power management technology that provides multiple CPU performance configurations for users to choose and set different frequency ranges to different cores according to their computing needs.
This paper introduces this new power management technology. The paper first reviews the legacy technologies and the various frequency range each works on, and points out two of the shortcomings of the legacy technologies. Then the paper introduces Intel Speed Select Technology and its main features features. Finally, the support status of the new technology and its usage on Linux is described.
Table of Contents
Introduction
Overview of Legacy Intel Power Management Technologies
Intel SST
Intel SST Tool on Linux
References
To view the document, click the Download PDF button.
Related product families
Product families related to this document are the following: