How to Deploy Azure Stack HCI via Microsoft Windows Admin CenterPlanning / Implementation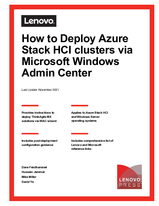 Updated
10 Nov 2021
Form Number
LP1524
PDF size
68 pages, 5.1 MB
Abstract
This document provides step-by-step instructions for deploying an Azure Stack HCI cluster on Lenovo ThinkAgile MX Certified Nodes and Appliances using the Microsoft Windows Admin Center (WAC) deployment wizard. It guides the reader through the wizard, explaining each step and providing real world examples from our labs. After completing the wizard, additional configuration steps are presented to ensure readiness of this HCI solution for production use.
Table of Contents
Introduction
Architectural overview
Solution deployment
     Deployment considerations
     General hardware preparation
     Network preparation
     Windows Admin Center (WAC)
     HCI cluster deployment
     Post-deployment configuration
Summary
Additional resources
To view the document, click the Download PDF button.
Change History
Changes in the November 2021 update:
Added steps to enable iWARP RDMA mode on Marvell network adapters before launching the WAC deployment wizard
Related product families
Product families related to this document are the following: