Top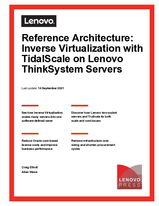 Authors
Craig Elliott
Allan Stone
Published
15 Sep 2021
Form Number
LP1526
PDF size
25 pages, 603 KB
Abstract
This document describes the reference architecture for Inverse Virtualization with Lenovo ThinkSystem using TidalScale. The reference architecture provides the six business issues addressed and the value of the solution. Samples of recommended hardware and TidalScale software Bills of Material for configuring TidalScale clusters are given for both Oracle and Non-Oracle use cases. The samples give the required and optional components to support business memory needs that need full life scaling from 2TB to 16TB.
This intended audience for this document is:
CFOs looking to reduce TCO and move to linear fixed cost growth
Data center managers looking to move to Infrastructure-as-a-Service (IaaS)
IT professionals, technical architects, sales engineers, and consultants to message, plan, design, and implement the unique benefits of the TidalScale AI-optimized hypervisor 
Users of IBM Mainframe, IBM Power, Oracle Exadata, and HPE Superdome looking to migrate to x86 using lower-cost dense servers
Table of Contents
Introduction
Business problem and business value
Components
Architectural overview
Deployment considerations
Appendix: Lenovo Bill of materials
Resources
To view the document, click the Download PDF button.
Related product families
Product families related to this document are the following: