Analyzing the Performance of Intel Optane Persistent Memory 200 Series in Memory Mode with Lenovo ThinkSystem ServersPlanning / Implementation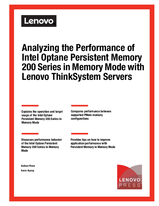 Authors
Published
23 Sep 2021
Form Number
LP1528
PDF size
17 pages, 245 KB
Abstract
The conventional system memory tiering consists of several levels of processor caches, a main memory tier with DDR memory DIMMs, and a system storage tier. In this tiering model, there is a large gap in performance and cost between the main memory tier and system storage tier. Intel Optane Persistent Memory (PMem) was brought to the market to help address this gap.
Intel Optane Persistent Memory 200 Series supports two modes, Memory Mode and App Direct Mode. In Memory Mode, the regular DRAM system memory acts as the next level cache, and the PMem becomes the system main memory. This enables the system to have higher system memory capacity and/or lower TCO. It doesn't require any changes to applications.
In this performance brief, we first explain the operations and the important performance metrics of the PMem 200 Series in Memory Mode. We will then discuss and explain the performance comparison between a few supported memory configurations with PMem. We will end the discussion with a few tips on how to configure system memory with PMem in Memory Mode to maximize system memory and application performance.
This performance brief is for customers, business partners and sellers who wish to have a better understanding on the performance behavior and to learn how to better configure the memory subsystem for performance with Intel Optane Persistent Memory 200 Series in Memory Mode. It is expected that the reader will have a basic understanding on system memory hierarchy, data cache operations, and memory performance.
Table of Contents
Introduction
Memory Population with PMem
DRAM and PMem size ratios
Performance evaluation test methodology and setup
Memory bandwidth performance
Memory latency performance
Summary
To view the document, click the Download PDF button.
Related product families
Product families related to this document are the following: