Top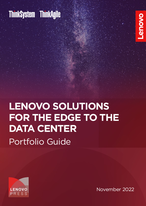 Author
Updated
10 Nov 2022
Form Number
LP1553
PDF size
59 pages, 7.9 MB
Abstract
Lenovo offers a broad portfolio of servers and storage from Edge to Cloud. This is a comprehensive document that contains all the servers, storage and software that Lenovo currently offers.
This document is suitable for anyone who is interested in learning about the servers and storage that Lenovo offers. A general understanding of server technology is recommended.
Change History
Changes in the November 10, 2022 update:
Celebrating 30 Years of ThinkSystem Innovation
Added SR645 V3, SR665 V3, SR675 V3, SD665 V3, SD665-N V3
Added DE6400H, DE6400F, DE6600H, and DE6600F to DE Systems-Storage section
Added ThinkAgile VX645 V3, VX665 V3, HX645 V3, HX665 V3
Table of contents
Celebrating 30 Years of ThinkSystem Innovation
Enabling the Future
Data Center and Edge Infrastructure
Storage
OEM Solutions
Software-Defined Infrastructure
Software for Your Infrastructure
Solutions
Lenovo DSS-G
Lenovo Showcase
Lenovo Services
Infrastructure Services Lifecycle
Lenovo TruScale
Updates are planned on a quarterly basis. Click the Subscribe to Updates link to get notified as soon a new version is published.
Related product families
Product families related to this document are the following:
Full Change History
Changes in the May 6, 2022 update:
Added ST250 V2, ST50 V2, SR250 V2
Updated the memory and storage maximums in Rack & Tower
Added LTO9 Tape Drives
Updated Software section
Completely new DSS-G, OEM, ON DEMAND & Services sections