Deployment Guide: VMware Cloud Foundation on Lenovo ThinkAgile VXPlanning / Implementation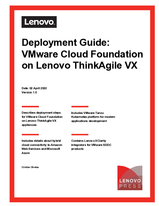 Author
Published
2 Apr 2022
Form Number
LP1581
PDF size
72 pages, 4.2 MB
Abstract
VCF on ThinkAgile VX is a way to implement a hybrid cloud solution as a rack based integrated system. This solution is built using ThinkAgile VX hardware from Lenovo, VMware Software Defined Data Center (SDDC) software capabilities and Lenovo XClarity integrators. These three major components come together to give the customers a turnkey hybrid cloud solution with tight integration for ease of management. It provides customers a hyperconverged infrastructure (HCI) solution with automated life cycle management (LCM) capabilities.
This document describes the steps for deploying VMware Cloud Foundation (VCF) on Lenovo® ThinkAgile VX servers. The intended audience of this document are IT professionals, technical architects, sales engineers, and consultants to assist in planning, designing, and implementing SDDC products. General understanding of server virtualization, cloud services and VMware software is expected to get the most out of the paper.
Table of Contents
1. Introduction
2. Business problem and business value
3. Requirements
4. Deploying SDDC
5. Deployment example
6. Conclusion
Resources
To view the document, click the Download PDF button.
Related product families
Product families related to this document are the following: