Top
Authors
Updated
30 Mar 2023
Form Number
LP1682
PDF size
11 pages, 396 KB
Abstract
This technical brief will highlight the innovative and advanced Azure services enabled by Azure Arc on-premises on Lenovo ThinkAgile MX systems.
Hybrid, Edge and Multi-Cloud Management On-Premises
Customer IT environments have become very complicated with many applications running on diverse infrastructure spread over on-premises data centers, on the edge, and in multiple clouds. With different tools and frameworks in use and multiple technologies like DevOps and Kubernetes, these IT resources have become hard to view, manage and secure. With the ever-increasing adoption of cloud services, cloud service providers are doing most of their innovation in the cloud today.
Microsoft Azure Arc is a set of technologies that allows customers to view and manage both their on-premises and cloud resources with a single pane of glass. With Azure Arc you can manage both your VMs in Azure and VMs on-premises, apply security policies to both and provide tough governance easily through a self-service portal. This paper will highlight the innovative and advanced Azure services enabled by Azure Arc on-premises on Lenovo ThinkAgile MX systems.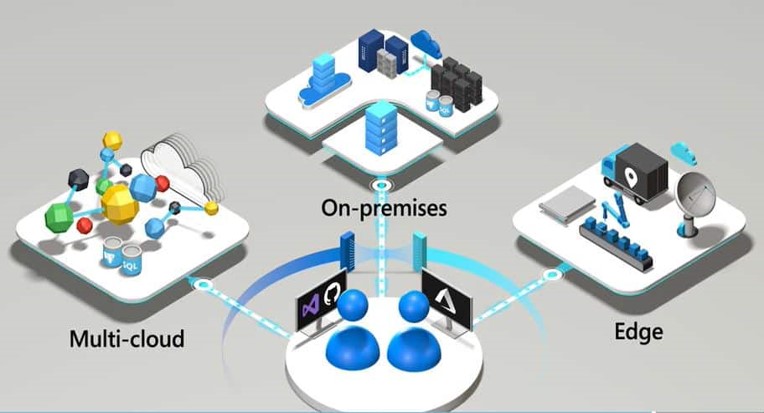 Figure 1. High-level Arc Integration
With Azure Arc, you can:
Manage your entire environment together by projecting your existing non-Azure and/or on-premises resources into Azure Resource Manager.
Manage virtual machines, Kubernetes clusters, and databases as if they are running in Azure.
Use familiar Azure services and management capabilities, regardless of where they live.
Continue using traditional ITOps while introducing DevOps practices to support new cloud native patterns in your environment.
Configure custom locations as an abstraction layer on top of Azure Arc-enabled Kubernetes clusters and cluster extensions.
Why Azure Arc Service on Azure Stack HCI?
Azure Stack HCI provides enterprise customers with a highly available, cost-efficient, flexible platform to run high-performance workloads. These workloads could run within traditional virtual machines or within containers, ensuring you get the best utilization from your hyperconverged infrastructure. While Azure Stack HCI provides a flexible hyperconverged infrastructure to modernize on-premises environments, Azure Hybrid Service and Azure Arc provide the latest security, performance and feature updates. Bringing them together, Windows Admin Center allows you to remotely manage and enable your Azure Services.
In many organizations, there are legacy workloads that cannot be moved - or that the business has decided are not going to the cloud. In other organizations, there are data privacy regulations, intellectual property (IP) concerns, or application entanglement that requires an on-premises presence. In these situations, a hybrid cloud environment is needed – one with consistency across the different environments. A hybrid cloud environment where you can connect back to the cloud and take advantage of the control plane and cloud practices.
A single control plane. Azure Arc provides the governance control, via a control plane, that gives you a common view and a single way to do it. Additionally, Azure Arc also provides you with the ability to run Azure services anywhere and to start leveraging the portability of Kubernetes. In that way, IT end-developers can start leveraging the same skills and same technology everywhere.
Push governance on-premises. Hybrid is much larger than the single pane. The ARM Control plane is designed for hybrid, from the beginning: inventory, governance, configuration management, policy aspects, security. This enables push governance down into on-premises environments. Some examples include:
Email applications like Office365 are covered by rules and regulations. With the appropriate governance rules in place through Azure Arc, you should be able to pass when an auditor comes to check the environment. The same should be true when you start using the governance practices from the cloud in your on-premises environment.
A simple (real-time) inventory can be run if you are using the cloud to govern your on-premises environment instead of an outdated configuration management database (CMDB) application. You can use Resource Graph to query the Azure resources and on-premises resources. You can use the same Azure Policies for your cloud resources and what is on-premises as well.
Scalability. Finally, another important benefit of hybrid solutions is scalability. When computing and processing demand is cyclical and increases beyond an on-premises datacenter's capabilities, businesses can use the cloud to instantly scale capacity up to support the business. Moreover, it allows them to avoid the time and cost of purchasing, installing, and maintaining new servers that may not always be needed.
Before You Get Started
The following summarizes, at a high-level, what you will need to run Azure Arc.
To use Arc, you must deploy an Azure Arc resource bridge (preview) in your ThinkAgile MX environment. The resource bridge provides an ongoing connection between your ThinkAgile MX servers and Azure. Once you've connected your ThinkAgile MX server to Azure, components on the resource bridge discover your ThinkAgile MX inventory. You can enable them in Azure and start performing virtual hardware and guest OS operations on them using Azure Arc.
An Azure subscription with the appropriate permissions.
Any ThinkAgile MX server running Azure Stack HCI 22H2 with ethernet access.
You need a Azure AD account that can: Read all inventory.
Deploy and update VMs to all the resource pools (or clusters), networks, and VM templates that you want to use with Azure Arc.
For the Arc-enabled ThinkAgile MX solution, the resource bridge has the following minimum virtual hardware requirements:

16 GB of memory
4 vCPUs
An external virtual switch that can provide access to the internet directly or through a proxy. If internet access is through a proxy or firewall, ensure these URLs are allow-listed.

Deploying the Connected Machine agent on a machine requires that you have administrator permissions to install and configure the agent. On Linux this is done by using the root account, and on Windows, with an account that is a member of the Local Administrators group.
Before you get started, be sure to review the agent prerequisites and verify the following:

Your target machine is running a supported operating system.
Your account has the required Azure built-in roles.
Ensure the machine is in a supported region.
Confirm that the Linux hostname or Windows computer name doesn't use a reserved word or trademark.
If the machine connects through a firewall or proxy server to communicate over the Internet, make sure the URLs listed are not blocked.
Deploying Azure Arc Service on Azure Stack HCI on Lenovo Servers
Managing Lenovo Systems through Windows Admin Center
Microsoft Windows Admin Center (WAC) is a browser-based application that is deployed locally and used to manage Windows Servers, Windows Server Clusters and Azure Stack HCI clusters. Microsoft has made WAC extensible so that hardware partners can build additional features specific to their hardware and firmware. Lenovo XClarity Integrator is an example of one such extension implementation. Lenovo XClarity Integrator is designed to help users manage and monitor the Lenovo ThinkSystem servers and ThinkAgile systems through Lenovo XClarity Administrator in Windows Admin Center. Lenovo XClarity Integrator and Windows Admin Center run in the same environment. Lenovo XClarity Integrator is integrated with Lenovo XClarity Administrator and can be used as an out-of-box management tool and a high-efficiency tool for managing and monitoring the Lenovo servers and components (e.g. monitoring the overall status of servers, viewing the inventory of components, checking the firmware consistency of cluster nodes, and launching the management interface).
This link provides information on features in the Lenovo XClarity Integrator extension and instructions for installing the extension for Windows Admin Center.
Summary
Following this guide, you have installed Azure Stack HCI, deployed Windows Admin Center and integrated the Azure Arc Service extension on Lenovo ThinkAgile MX systems. You can then deploy the Azure Kubernetes Service management cluster onto your Azure Stack HCI cluster, and setup the integration for the management of your workloads.
Why Lenovo?
Lenovo is a US$70 billion revenue Fortune Global 500 company serving customers in 180 markets around the world. Focused on a bold vision to deliver smarter technology for all, we are developing world-changing technologies that power (through devices and infrastructure) and empower (through solutions, services and software) millions of customers every day.
For More Information
To learn more about this Lenovo solution contact your Lenovo Business Partner or visit: https://www.lenovo.com/us/en/servers-storage/solutions/
Related product families
Product families related to this document are the following:
Trademarks
Lenovo and the Lenovo logo are trademarks or registered trademarks of Lenovo in the United States, other countries, or both. A current list of Lenovo trademarks is available on the Web at https://www.lenovo.com/us/en/legal/copytrade/.
The following terms are trademarks of Lenovo in the United States, other countries, or both:
Lenovo®
ThinkAgile®
ThinkEdge®
ThinkSystem®
XClarity®
The following terms are trademarks of other companies:
Linux® is the trademark of Linus Torvalds in the U.S. and other countries.
Arc®, Azure®, Microsoft®, PowerShell, Windows Server®, and Windows® are trademarks of Microsoft Corporation in the United States, other countries, or both.
Other company, product, or service names may be trademarks or service marks of others.