Top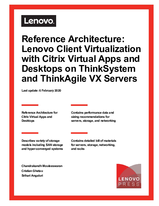 Updated
6 Feb 2020
Form Number
LP0664
PDF size
59 pages, 200 KB
Abstract
This document is the reference architecture (RA) for the Lenovo Client Virtualization (LCV) solution using Citrix XenDesktop on ThinkSystem servers. It should be read in conjunction with the LCV base reference architecture document. This RA describes the software components of the solution including Citrix XenDesktop and the different hypervisors. The RA shows different operational models using Lenovo ThinkSystem and ThinkAgile VX servers, networking and storage products with guidance on how to size each part of the solution. Some examples of different deployment models are provided together with an appendix containing the bill of materials.
Table of Contents
Introduction
Architectural overview
Component model
Operational model
Appendix: Bill of materials
Resources
Click the Download PDF button to download the document.
Change History
Changes in the February 6 update:
Added results for ThinkSystem SR635 and SR655 AMD EPYC Processor Gen 2 (Rome) based servers using ESXi 6.7 U3
Added BOMs for the SR635 and SR655 servers
Related product families
Product families related to this document are the following: