Top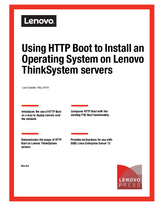 Author
Updated
14 May 2019
Form Number
LP0736
PDF size
24 pages, 441 KB
Abstract
HTTP Boot is client-server communication based application. It combines the Dynamic Host Configuration Protocol (DHCP), Domain Name System (DNS), and Hypertext Transfer Protocol (HTTP) to provide the capability for system deployment and configuration over the network. This new capability can be utilized as a higher-performance replacement for Trivial File Transfer Protocol (TFTP) based Preboot Execution Environment (PXE) Boot methods of network deployment.
This document provides a brief introduction to the HTTP Boot mechanism, instructions on setting up the HTTP Boot server on SUSE Linux Enterprise Server 12 SP2, and a practice of installing SLES 12 SP2 on a Lenovo® ThinkSystem™ server using HTTP Boot. HTTP Boot is also supported on SLES 12 SP3, SLES 12 SP4 and SLES 15.
This paper is intended for IT administrators. Readers are expected to have the basic knowledge of network deployment.
Table of Contents
Introduction
HTTP Boot architecture
Using HTTP Boot with ThinkSystem servers
Acronyms
Author
Change History
Changes in the May 14 update:
Added a note regarding SLES support of HTTP Boot with SLES 12.x and SLES 15 and the dropping of HTTP Boot support with SLES 12.2 with UEFI firmware released November 2019. See "Using HTTP Boot with ThinkSystem servers" on page 7.
Related product families
Product families related to this document are the following: