Top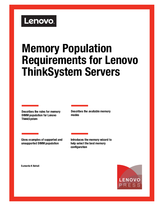 Author
Published
23 Oct 2017
Form Number
LP0774
PDF size
14 pages, 278 KB
Abstract
This paper examines the memory population requirements of the Lenovo® ThinkSystem™ platforms based on the Intel Xeon Processor Scalable family. We describe both Intel and Lenovo specific requirements complete with various examples that show supported and unsupported memory population. This paper explains the value of using the Memory Wizard in the Lenovo Enterprise Server Configurator (LESC) as an easy way to determine the best memory configuration for ThinkSystem servers.
Table of Contents
Introduction
Intel Xeon Scalable Family Processors
Types of DIMMs
Memory population rules
Lenovo Memory Configuration Wizard
Memory mirroring rules
Memory Sparing rules
Further reading
To view the document, click the Download PDF button.
Related product families
Product families related to this document are the following: