Top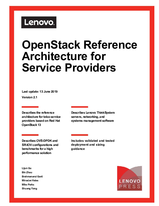 Authors
Lijun Gu
Bin Zhou
Miroslav Halas
Shuang Yang
Updated
2 May 2019
Form Number
LP0913
PDF size
59 pages, 229 KB
Abstract
This OpenStack Reference Architecture (RA) for Service Providers presents guidance on implementing Network Functions Virtualization Infrastructure (NFVI) using Red Hat OpenStack Platform 13 integrated with Lenovo ThinkSystem servers, switches and systems management software. The RA specifically describes how to leverage DPDK-accelerated Open vSwitch, and SR-IOV to achieve lower latencies and higher packet throughput. The RA also includes recommended best practices, software configuration examples and hardware bill of materials for building the Lenovo NFVI.
Table of Contents
Introduction
Business problem and business value
Requirements
NFV overview and key technologies
Component model
Operational model
Deployment example
Appendix: Lenovo Bill of Materials
Resources
To view the document, click the Download PDF button.
Change History
Changes in the May 2 update:
Added performance benchmarking
Related product families
Product families related to this document are the following: