Solution Guide for DataCore Software Defined Storage with Lenovo ThinkSystem ServersPlanning / Implementation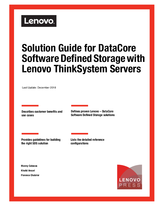 Updated
7 Dec 2018
Form Number
LP0918
PDF size
71 pages, 330 KB
Abstract
Lenovo® and DataCore have successfully conducted a series of tests to certify Software-Defined Storage (SDS) solutions based on Lenovo ThinkSystem™ servers and DataCore Software. This document describes the reference architecture designed to guide technical personnel through the creation of complete solutions (hardware and software configurations) to meet specific customer requirements. This flexible approach allows the right solutions to be built for each unique customer engagement.
In addition, this document also provides sample configurations for the most popular Lenovo-DataCore use cases. These reference configurations, defined with unique Solution IDs, can be used as is or can be imported into Lenovo configurators and be easily modified to address specific end user scenarios. These deployment ready solutions allow technical resources and presales engineers to quickly address customer requirements by using ready-to-go proven configurations.
Best practices have been used in developing this guide. Specific hardware and software options are identified, so customers can be sure the proposed solution is built using the most advanced Lenovo hardware components and DataCore features to meet their unique Software-Defined Storage needs.
Table of Contents
High-level solution overview
Architectural overview
Reference configurations
Use cases
Business processes
Conclusion
Appendix: DataCore configurations in DCSC
Authors
To view the document, click the Download PDF button.
Change History
Changes in the December 2018 update:
New DataCore part numbers, "DataCore Software" on page 13
Updated Bills of Materials, "Use cases" on page 21
Related product families
Product families related to this document are the following: