Top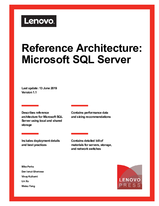 Updated
13 Jun 2019
Form Number
LP1075
PDF size
41 pages, 422 KB
Abstract
This reference architecture covers Microsoft SQL Server 2017 using Lenovo ThinkSystem servers, storage and network switches. With Microsoft's announcement of the end of life for Microsoft SQL Server 2008, this reference architecture can help address what is needed to migrate existing SQL Server databases to a modern Lenovo infrastructure. The intended audience is IT professionals, technical architects, sales engineers, and consultants to assist in planning, designing, and implementing Microsoft SQL Server.
This document provides an overview of the business problem and business value that is addressed by Microsoft SQL Server. A description of customer requirements is followed by an architectural overview of the solution and a description of the logical components. The operational model describes the architecture and components for deploying Microsoft SQL Server in small to very large Enterprises. Performance and sizing information is provided with the best practices for deploying Microsoft SQL Server.
Table of Contents
Introduction
Business problem and business value
Requirements
Architectural overview
Component model
Operational model
Deployment considerations
Appendix: Bill of Materials
Resources
To view the PDF, click the Download PDF button.
Change History
Changes in the June 13 update:
Updated with improved performance results and better coverage of both local drive and shared storage configurations including use of second-generation Intel Xeon Scalable Processors.
Related product families
Product families related to this document are the following: