Top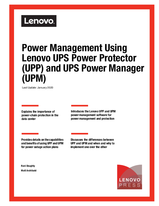 Authors
Updated
30 Jan 2020
Form Number
LP1076
PDF size
64 pages, 2.6 MB
Abstract
A brief or extended interruption of power from the electric utility company can cause significant or permanent damage for any data center equipment that is unprotected during a power event. The outcome can become costly for companies due to potential loss of data and equipment down-time. This is why an uninterruptible power supply (UPS) is a critical component of a data center's infrastructure to protect and safe guard against power outages.
This paper discusses how to install and use two Lenovo® UPS software offerings:
Lenovo UPS Power Protector (UPP)
Lenovo UPS Power Manager (UPM)
This paper is based on UPM version 1.54 and 1.57 and UPP version 1.57.
The Lenovo UPP software product can help manage and protect single nodes over a local network while the Lenovo UPM software is an enterprise solution that can manage and protect many nodes across multiple data centers from the damage caused by power interruptions and outages.
This paper is written for those looking to learn about Lenovo's solution to hardware and data protection and how to create action plans to minimize the risk of data loss and downtime during power interruptions and extended outages. It assumes the reader has basic knowledge of power, PDUs and UPS hardware and solutions.
Table of Contents
Introduction
The importance of power-chain protection in the data center
Comparing UPM and UPP
UPS and PDU portfolio overview
UPS Power Protection (UPP)
UPS Power Manager (UPM)
Strategies for managing and protecting virtual environments
Summary
About the authors
To view the document, click the Download PDF button.
Change History
Changes in the January 30 update:
Updates to Table 2, "UPP and UPM software licenses and features" on page 9
Related product families
Product families related to this document are the following: