Top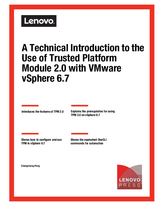 Author
Published
15 Oct 2019
Form Number
LP1234
PDF size
21 pages, 534 KB
Abstract
Trusted Platform Module (TPM) is an international standard for a secure cryptoprocessor, which is a dedicated microcontroller designed to secure hardware through integrated cryptographic keys. From laptops to desktops to servers, TPM 2.0 chips are found in most of today's computers. Currently, TPM 2.0 chips are also available on Lenovo® ThinkSystem™ servers as well as most of the Lenovo System x, ThinkServer, and Flex System product families.
This document presents a briefly technical overview of the TPM 2.0 and describes how to configure and use TPM 2.0 in VMware vSphere 6.7 on Lenovo servers. This document is intended for IT administrators who are familiar with TPM 2.0 and VMware ESXi 6.7 and vCenter 6.7.
Table of Contents
Introduction
Configuring and using TPM 2.0 in vSphere 6.7
Using OneCLI to configure TPM 2.0
References
Author
To view the document, click the Download PDF button.
Related product families
Product families related to this document are the following: