Top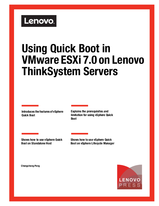 Author
Published
14 Apr 2021
Form Number
LP1463
PDF size
16 pages, 622 KB
Abstract
VMware vSphere Quick Boot is an innovative feature that speeds up the upgrade process of an ESXi server. A regular reboot involves a full power cycle that requires firmware and device initialization. Quick Boot optimizes the reboot path to skip time-consuming hardware initialization, saving time from the upgrade process. Lenovo® ThinkSystem™ servers support Quick Boot starting with ESXi 7.0.
This document provides a briefly technical overview of the Quick Boot and describes how to configure and use Quick Boot in VMware ESXi 7.0 on Lenovo ThinkSystem servers. This document is intended for IT administrators who are familiar with VMware vSphere products.
Table of Contents
Introduction
Quick Boot Support and Hardware Compatibility Check
How to Use Quick Boot on Standalone Host
How to use Quick Boot on vSphere Lifecycle Manager
References
To view the document, click the Download PDF button.
Related product families
Product families related to this document are the following: