Configuring VMware VMDirectPath I/O Passthrough with NVMe SSDs on ThinkSystem ServersPlanning / Implementation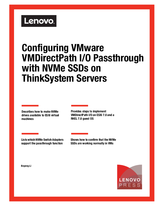 Author
Published
14 Apr 2021
Form Number
LP1464
PDF size
18 pages, 949 KB
Abstract
VMware VMDirectPath I/O (PCI passthrough) enables direct assignment of hardware PCI functions such as NVMe solid-state drives to a virtual machine. This gives the VM access to the PCI functions with minimal intervention from the ESXi host, potentially improving performance.
In this paper, we describe how to configure NVMe SSDs passthrough as PCI devices to VMs on Lenovo® ThinkSystem™ servers. We provide step-by-step instructions using VMware ESXi 7.0 U1.
This paper is intended for IT specialists and IT managers who want to learn more about NVMe SSDs passthrough.
Table of Contents
Introduction
Scenario 1: Connecting the NVMe SSDs to onboard NVMe ports
Scenario 2: Connecting the NVMe SSDs to an NVMe Switch
References
To view the document, click the Download PDF button.
Related product families
Product families related to this document are the following: