Using HTTP IPv6 Boot to Install a Linux OS on Lenovo ThinkSystem SeversPlanning / Implementation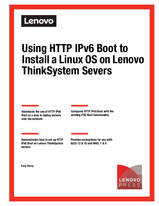 Author
Published
12 May 2021
Form Number
LP1469
PDF size
14 pages, 149 KB
Abstract
HTTP Boot is an application based on client-server communication. It combines the DHCP, DNS, and HTTP protocols to provide the ability to installl an operating system over the network. This new capability can be utilized as a higher-performance replacement for TFTP-based on PXE Boot methods of network deployment.
This paper provides a brief introduction to the HTTP Boot mechanism, instructions on setting up the HTTP Boot server on SUSE Linux Enterprise Server 15 SP2, and step-by-step instructions on how to install an operating system on a Lenovo® ThinkSystem™ server using HTTP Boot.
This paper is intended for IT administrators. Readers are expected to have the basic knowledge of network deployment.
Table of Contents
Introduction
Setting up the HTTP IPv6 Boot server
OS installation demonstration via UEFI IPv6
Acronyms
References
To view the document, click the Download PDF button.
Related product families
Product families related to this document are the following: