Top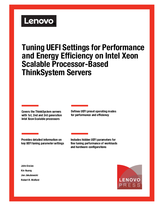 Published
15 Jun 2021
Form Number
LP1477
PDF size
41 pages, 222 KB
Abstract
Properly configuring UEFI parameters in a server is important for achieving a desired outcome such as maximum performance or maximum energy efficiency. This paper defines preset UEFI operating modes for Lenovo® ThinkSystem™ servers running first, second and third generation Intel Xeon Scalable processors that are optimized for each of these outcomes. In addition, a thorough explanation is provided for each of the UEFI parameters so they can be fine-tuned for any particular customer deployment.
This paper is for customers and for business partners and sellers wishing to understand how to optimize UEFI parameters to achieve maximum performance or energy efficiency of Lenovo ThinkSystem servers with Intel Xeon Scalable processors.
Table of Contents
Introduction
Summary of operating modes
How to use OneCLI and Redfish to access these settings
UEFI menu items
Hidden UEFI Items
Red Hat Enterprise Linux (RHEL) and derivatives
Additional references
To view the document, click the Download PDF button.
Related product families
Product families related to this document are the following: