Enabling Windows Server 2019 Device Guard and Credential Guard on Lenovo ThinkSystem ServersPlanning / Implementation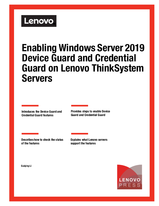 Author
Published
3 Jun 2021
Form Number
LP1486
PDF size
13 pages, 788 KB
Abstract
Device Guard and Credential Guard are two important security features of the Microsoft Windows Server operating system that leverage virtualization capabilities from the hardware and the hypervisor to provide additional protection for critical subsystems and data. Customers can implement these features to secure their devices and data, such as user or system secrets, and hashed credentials.
To benefit from these two features, the servers you are protecting must meet certain baseline hardware, firmware and software requirements. Lenovo® ThinkSystem™ servers support these two security features in conjunction with Windows Server 2019.
This document introduces Device Guard and Credential Guard, and shows users how to enable them on supported Lenovo ThinkSystem servers. This paper is intended for IT specialists, technical architects and sales engineers who want to learn more about Device Guard and Credential Guard and how to enable them. It is expected that readers have some experience with Windows Server administration.
Table of Contents
Introduction
Secure Boot setting
Enabling Device Guard
Enabling Credential Guard
Deploying Device Guard and Credential Guard in a VM
Lenovo ThinkSystem server support
References
Author
To view the document, click the Download PDF button.
Related product families
Product families related to this document are the following: