Top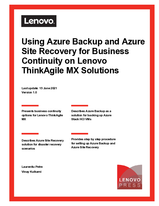 Authors
Published
15 Jun 2021
Form Number
LP1493
PDF size
20 pages, 841 KB
Abstract
A critical consideration when planning for setting up a hybrid cloud solution on-premises is high availability of applications and workloads. High availability can be accomplished in several ways. Lenovo ThinkAgile MX systems offer high availability by deploying multiple nodes in a cluster. In addition, Azure Backup, and Azure Site Recovery (ASR) are two Microsoft Azure services that will protect the customer's data on Lenovo ThinkAgile MX for Azure Stack HCI in case of planned and unplanned IT disruptions and outages.
This paper describes Azure Backup and Azure Site Recovery services from Microsoft Azure and the process for configuring these features. The intended audience is IT professionals, technical architects, sales engineer and consultants to assist in planning, designing and implementing infrastructure projects that can leverage the Azure cloud for backup and high availability.
Table of Contents
Introduction
Business problem and business value
Azure Backup
Azure Site Recovery
Resources
To view the document, click the Download PDF button.
Related product families
Product families related to this document are the following: