Top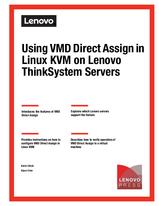 Authors
Published
30 May 2022
Form Number
LP1576
PDF size
17 pages, 837 KB
Abstract
Intel VMD Direct Assign is a specific application of Intel Volume Management Device (Intel VMD) that aims to improve the storage experience in Hyperconverged Infrastructure (HCI) architecture, it takes the isolated storage subsystem and bypasses the hypervisor to assign Intel VMD control directly to a virtual machine running on the host.
This document provides a brief overview of the Intel VMD Direct Assign and describes how to configure and use VMD Direct Assign in Linux KVM on Lenovo® ThinkSystem™ servers. This document is intended for IT specialists and IT managers who are familiar with Linux KVM Virtualization.
Table of Contents
Introduction
How to use VMD Direct Assign in Linux KVM
Verify VMD Device in Guest OS
Resources
Authors
To view the document, click the Download PDF button.
Related product families
Product families related to this document are the following: