Top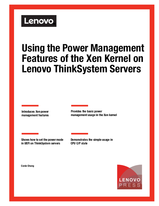 Author
Published
19 May 2022
Form Number
LP1596
PDF size
20 pages, 397 KB
Abstract
This paper provides an overview of the power management features of the Xen Kernel as used in SUSE Linux Enterprise Server. provides the basic power management usage, including CPU P-state and CPU C-state.
This paper is intended for IT specialists and IT managers who are familiar with power management and Linux Xen OS.
Table of Contents
Introduction
Basic components
CPU P-States (cpufreq) with Xen
Enabling the use of CPU P-States in Xen
CPU C-States (cpuidle)
Enabling the use of CPU C-States in Xen
Resources
To view the document, click the Download PDF button.