Top
Author
Published
6 Feb 2023
Form Number
LP1697
PDF size
6 pages, 667 KB
Abstract
The ThinkSystem SR860 V3 is a 4U, 4 processor rack server with support for high-performance GPUs supporting a variety of configurations. The SR860 V3 highlights in this article are Performance and Scalability, Tremendous Storage, Flexible PCIe and GPU Support, Increased Performance, Capacity and Lower Power with DDR5 Memory and Enhanced Security.
Introduction
The Lenovo ThinkSystem SR860 V3 is a 4-socket server in a 4U rack design with support for high-performance GPUs. The server offers technology advances, including fourth-generation Intel Xeon Scalable processors and scale-up capacity with up to 16TB of system memory, up to 18x PCIe slots, and up to 48x 2.5-inch drive bays. The SR860 V3 is ideal for Mission critical workloads. This article introduces five key aspects of the new server.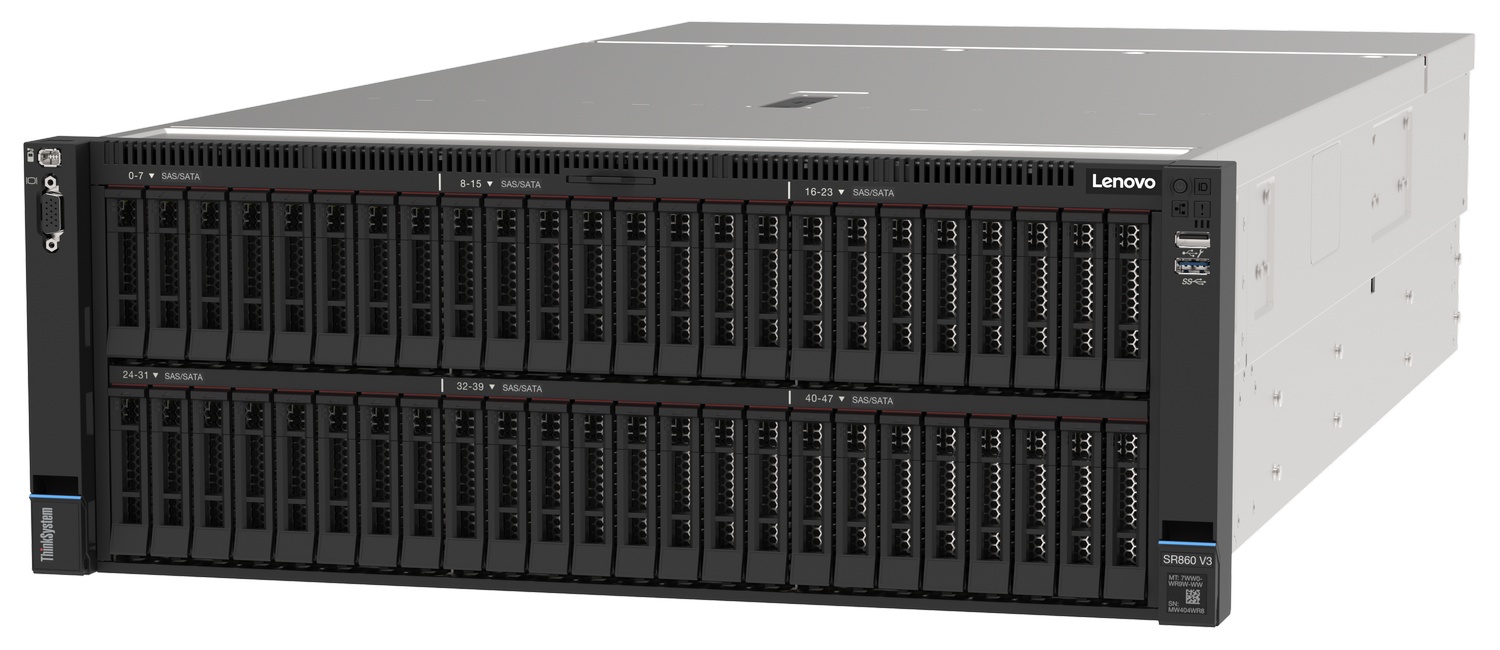 Figure 1. Lenovo ThinkSystem SR860 V3
1. Performance and Scalability
The Lenovo SR860 V3 provides the advanced capabilities of four new 4th Gen Intel Xeon Scalable processors plus support for four double-wide GPUs. This combination gives you significant processing power in one server. You can also start with 2 processors with 32 DIMM memory and upgrade to 4 processors with 64 DIMM memory as workloads increases.
The SR860 V3 processing, memory and storage capabilities make it is ideally positioned for SAP HANA in-memory computing, transactional databases, deep learning, analytics, big data, and GPU intensive applications such as AI and 3D modeling.
2. Tremendous Storage
The SR860 V3 supports up to 48x 2.5-inch SAS/SATA drive bays of which 24 can be AnyBay drive bays instead. All 48x drive bays are hot-swap and all front-accessible. This includes up to 24x NVMe drives to maximize storage performance. All connections are made using onboard connectors. Each x4 drive has a full x4 (four PCIe Gen5 lanes) connection to the processor.
The server also supports internal M.2 drives (one or two, installed in an adapter), or rear-accessible hot-swap 7mm SSDs (installed in the place of two PCIe slots).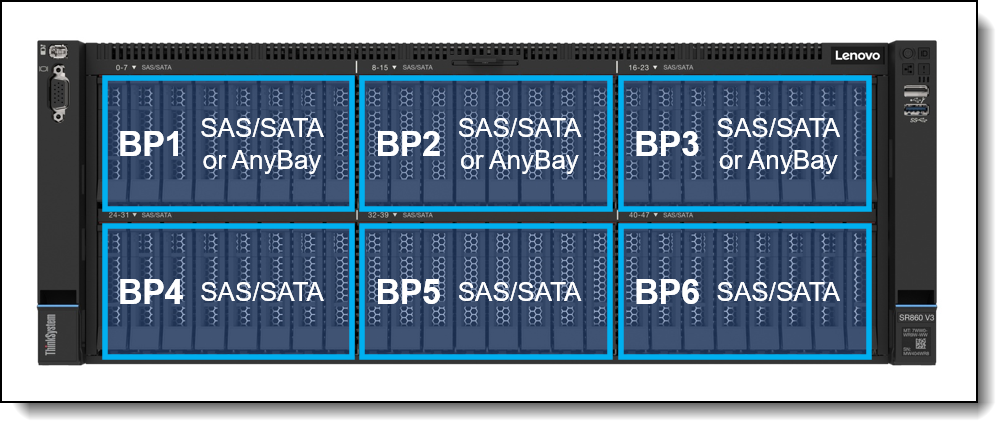 Figure 2. Front drive bays of the ThinkSystem SR860 V3
3. Flexible PCIe and GPU Support
The SR860 V3 supports a total of up to 18x rear-accessible PCIe slots, plus two dedicated OCP 3.0 SFF slot for networking. The SR860 V3 server supports Gen4-only or Gen5+Gen4 slot configurations to suit the needs of installed applications.
The SR860 V3 can also support up to 8x single wide GPUs or 4x double-wide GPUs for substantial processing power in s single server.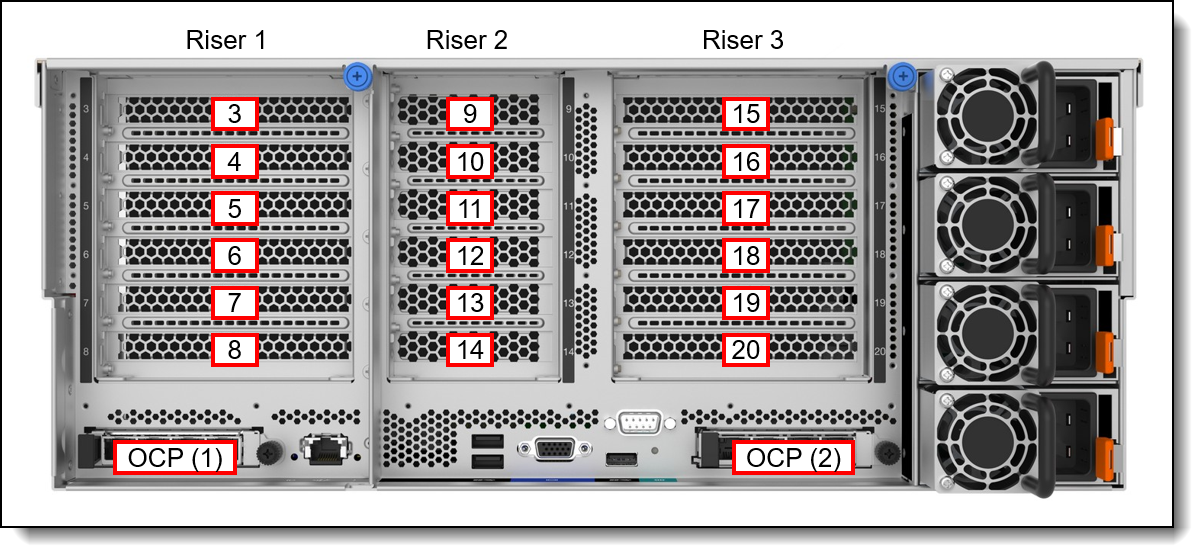 Figure 3. Slots in the SR860 V3
4. Increased Performance, Capacity and Lower Power with DDR5 Memory
DDR5 is the newest RAM available for Lenovo ThinkSystem servers. The DDR means "double data rate", and the "5" means that this is the fifth generation of this type of RAM.
DDR5 Provides:
Higher Performance - DDR5 offerings are faster and more efficient than the latest DDR4. DDR5 starts at 4800 MT/s, where DDR4 maxes out at 3200 MT/s.
Higher Capacity - DDR5 memory supports larger RAM devices than DDR4.
Lower Power Consumption - Not only do the DIMMs themselves consume less power, but less power is needed to cool them. 
5. Enhanced Security
The SR860 V3 includes many security features including Lenovo ThinkShield security software. ThinkShield prevents, detects and remediates against attacks, providing security in the supply chain, below the OS in the server, and from the OS to the cloud. The XClarity system manager simplifies infrastructure processes, handling faults, and adding new servers to the network. It also adds security by monitoring log events.
The SR860 V3 server offers the following electronic security features:
Secure Boot function of the Intel Xeon processor
Support for Platform Firmware Resiliency (PFR) hardware Root of Trust (RoT)
Firmware signature processes compliant with FIPS and NIST requirements
Administrator and power-on password
Integrated Trusted Platform Module (TPM) supporting TPM 2.0
Self-encrypting drives (SEDs)
The SR860 V3 server also offers the following physical security features:
Optional chassis intrusion switch (standard on some models)
Optional lockable front security bezel
Lenovo's ThinkShield Security is a transparent and comprehensive approach to security that extends to all dimensions of our data center products: from development, to supply chain, and through the entire product lifecycle. This includes Platform Firmware Resiliency (PFR) hardware Root of Trust (RoT) which enables the system to be NIST SP800-193 compliant.
Further reading
For further reading, see these SR860 V3 resources:
This article is one in a series on the ThinkSystem V3 servers:
About the author
Randall Lundin is a Senior Product Manager in the Lenovo Infrastructure Solution Group. He is responsible for planning and managing ThinkSystem servers. Randall has also authored and contributed to numerous Lenovo Press publications on ThinkSystem products.
Related product families
Product families related to this document are the following:
Trademarks
Lenovo and the Lenovo logo are trademarks or registered trademarks of Lenovo in the United States, other countries, or both. A current list of Lenovo trademarks is available on the Web at https://www.lenovo.com/us/en/legal/copytrade/.
The following terms are trademarks of Lenovo in the United States, other countries, or both:
Lenovo®
AnyBay®
ThinkShield®
ThinkSystem®
XClarity®
The following terms are trademarks of other companies:
Intel® and Xeon® are trademarks of Intel Corporation or its subsidiaries.
Other company, product, or service names may be trademarks or service marks of others.