Top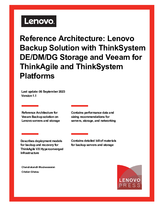 Updated
6 Sep 2023
Form Number
LP1769
PDF size
45 pages, 1.9 MB
Abstract
This document is the reference architecture (RA) for the Lenovo Backup and Recovery solution using ThinkSystem DE, DM and DG Series storage systems and Veeam Data Platform. The RA describes various backup methods and technologies, ransomware protection and relevant features provided by the solution. The RA explains different operational models using Lenovo ThinkSystem servers, ThinkAgile servers, ThinkSystem DE/DM/DG storage, Tape systems and SAN switches with guidelines to design robust data protection solution and size appropriately to achieve Recovery Point Objective (RPO) and Recovery Time Objective (RTO). The RA focuses on data protection design aspects for Lenovo hyperconverged systems ThinkAgile VX powered by VMware vSAN. Many deployment models for onsite and offsite backup are covered and a bill of materials is included for backup storage and backup servers.
Table of Contents
Introduction
Backup and Recovery Architecture
Veeam Data Platform
Backup System Design
Operational model
Appendix: Bill of materials
Resources
To view the document, click the Download PDF button.
Change History
Changes in the September 6, 2023 update:
Added ThinkSystem DG storage system features, configuration and performance data
Added the DG5000 storage to the Bill of Materials
Related product families
Product families related to this document are the following: