Top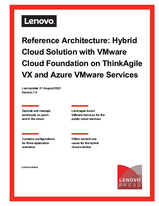 Author
Published
21 Aug 2023
Form Number
LP1794
PDF size
35 pages, 2.8 MB
Abstract
This document outlines the reference architecture for a Hybrid Cloud using VMware Cloud Foundation (VCF) on Lenovo ThinkAgile VX servers. It offers a turnkey hybrid cloud solution, combining Lenovo hardware, VMware software with Lenovo XClarity integration, and Azure VMware Solution (AVS) to provide customers with an automated hyperconverged infrastructure with easy management.
Table of Contents
1 Introduction
2 Architectural overview
3 Implementation
4 Use Cases
To view the document, click the Download PDF button.
Related product families
Product families related to this document are the following: