Top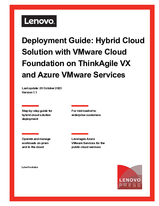 Author
Published
21 Aug 2023
Form Number
LP1795
PDF size
98 pages, 5.7 MB
Abstract
This deployment guide will walk the customer through deploying a Hybrid Cloud using VMware Cloud Foundation (VCF) on Lenovo ThinkAgile VX servers. It offers a turnkey hybrid cloud solution, combining Lenovo hardware, VMware software with Lenovo XClarity integration, and Azure VMware Solution (AVS) to provide customers with an automated hyperconverged infrastructure with easy management.
Table of Contents
1 Introduction
2 Prerequisites
3 Installation Steps
4 Lessons Learned - Other Considerations
To view the document, click the Download PDF button.
Change History
August 21, 2023: Original version
October 20, 2023:
Added the steps to optionally deploy a VI workload domain (section 3.10)
Informed readers of the availability of a new guide to upgrade an existing VMware SDDC deployed using VCF 4.5.1 with Lenovo integrations to VCF 5.0 with no downtime.
Related product families
Product families related to this document are the following: