Lenovo Flex System Higher Voltage DC SolutionsPlanning / Implementation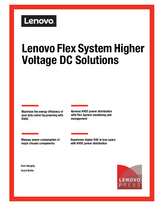 Authors
Published
14 Apr 2015
Form Number
REDP5180
PDF size
90 pages, 251 KB
Abstract
The need to create and maintain an efficient and reliable data center infrastructure has become more prevalent in recent years. New and different approaches are being sought and adopted in the quest to seize and sustain methods that bring optimization and simplification to data centers.
With the continuous increase in global power consumption and the rise in power load requirements of modern servers, the quest for greater efficiency and reliability of power distribution manifests the need for a more improved and efficient method of distributing power to data centers.
Most electrical infrastructures today use alternating current (AC) to provide power to data centers, which distributes electricity in the range 100 - 600 V AC throughout the facility. However, because of the efficiency and reliability of direct current (DC) power, a growing interest in DC power in data centers is noted. However, as with any new technology that is introduced into a data center, higher voltage direct current (HVDC) power distribution faced the following initial adoption challenges:
* Limited familiarity and understanding of HVDC power
* Limited system-level portfolios of DC specific hardware
* Lack of established practices and general standards
* Limited knowledge of deployment and operating procedures
* Safety obstacles and knowledge
Many of the obstacles were overcome in recent years and the number of HVDC deployments is steadily increasing. This paper describes HVDC and explores specific factors in the adoption of HVDC in data centers, including reliability, safety, and efficiency. We also describe the benefits that can be realized by bringing HVDC power into your data center, and the DC power components that are available in the Lenovo® Flex System™ offering.
Lenovo Flex System servers are based on Intel Xeon processors.
Table of Contents
Chapter 1. Introduction
Chapter 2. HVDC data center infrastructure
Chapter 3. Planning considerations to implement HVDC in data centers
Chapter 4. Flex System offerings
Chapter 5. Safety considerations
Related product families
Product families related to this document are the following: