Top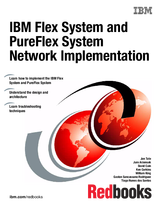 Authors
Updated
13 Nov 2013
Form Number
SG248089
PDF size
286 pages, 335 KB
Abstract
To meet today's complex and ever-changing business demands, you need a solid foundation of server, storage, networking, and software resources that are simple to deploy and can quickly and automatically adapt to changing conditions. You also need access to, and the ability to take advantage of, broad expertise and proven best practices in systems management, applications, hardware maintenance, and more.
IBM® PureFlex™ System, which is a part of the IBM PureSystems™ family of expert integrated systems, combines advanced IBM hardware and software along with patterns of expertise and integrates them into three optimized configurations that are simple to acquire and deploy so that you can achieve faster time to value.
If you want a preconfigured, preintegrated infrastructure with integrated management and cloud capabilities, factory tuned from IBM with x86 and Power Systems™ hybrid solution, IBM PureFlex System is the answer.
In this IBM Redbooks® publication, which is aimed at system and network administrators, we show the design and architecture, how to configure hosts and switches, maintain, and troubleshoot using the IBM Flex System™ Ethernet I/O modules (EN2092 1Gb Ethernet Scalable Switch and EN4093R 10Gb Scalable Switch).
Table of Contents
Chapter 1. Introduction to IBM PureFlex System Networking
Chapter 2. Data center design and architecture
Chapter 3. Planning and hardware selection
Chapter 4. Initial configuration
Chapter 5. Compute node network configuration
Chapter 6. Implementation of IBM PureFlex Systems and IBM System Networking connectivity
Chapter 7. System management
Chapter 8. Troubleshooting and maintenance
Appendix A. An integration guide to the IBM Flex System Fabric EN4093/EN4093R 10Gb Scalable Switch
Appendix B. Easy Connect
Related product families
Product families related to this document are the following: