Top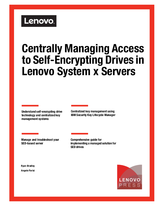 Authors
Published
16 Mar 2015
Form Number
SG248247
PDF size
198 pages, 264 KB
Abstract
Data security is one of the paramount requirements for organizations of all sizes. Although many companies invested heavily in protection from network-based attacks and other threats, few effective safeguards are available to protect against potentially costly exposures of proprietary data that results from a hard disk drive being stolen, misplaced, retired, or redeployed.
Self-encrypting drives (SEDs) can satisfy this need by providing the ultimate in security for data-at-rest and can help reduce IT drive retirement costs in the data center. Self-encrypting drives are also an excellent choice if you must comply with government or industry regulations for data privacy and encryption.
To effectively manage a large deployment of SEDs in Lenovo® System x® servers, an organization must rely on a centralized key management solution. This Lenovo Press book explains the technology behind SEDs and demonstrates how to deploy a key management solution that uses IBM Security Key Lifecycle Manager and properly setup your System x servers.
Table of Contents
Part 1. Technology and configuration
Chapter 1. Technology primer
Chapter 2. Supported systems and sample configuration
Part 2. Hands-on configuration
Chapter 3. IBM Security Key Lifecycle Manager setup
Chapter 4. Integrated Management Module configuration
Chapter 5. UEFI configuration
Chapter 6. Managing your System x server SED deployment
Appendix A. Local key management alternatives
Appendix B. Troubleshooting
Appendix C. Licenses and software
Related product families
Product families related to this document are the following: