Top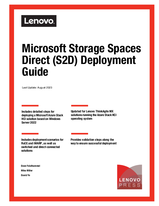 Authors
Updated
9 Aug 2023
Form Number
LP0064
PDF size
105 pages, 5.0 MB
Abstract
Lenovo and Microsoft have worked closely for many years to craft a software-defined storage solution leveraging the advanced feature sets of the Windows Server and Azure Stack HCI operating systems, combined with the flexibility of Lenovo ThinkSystem rack and edge servers. In addition, we have created Lenovo ThinkAgile MX solutions that contain only servers and server components that have been certified under the Microsoft Azure Stack HCI Program to run Microsoft Storage Spaces Direct (S2D) properly.
This solution provides a solid foundation for customers looking to consolidate both storage and compute capabilities on a single hardware platform, or for those enterprises that wish to have distinct storage and compute environments. In both situations, this solution provides outstanding performance, high availability protection and effortless scale out growth potential to accommodate evolving business needs.
This deployment guide makes extensive use of Windows PowerShell commands and scripts. It guides the reader through a set of well-proven procedures leading to readiness of the solution for production use. It covers multiple deployment scenarios, including RoCE and iWARP implementations of RDMA, as well as 2- and 3-node direct-connected deployments.
If you prefer to deploy an Azure Stack HCI cluster from the Windows Admin Center (WAC) deployment wizard, please refer to our companion document at the following URL:
https://lenovopress.com/lp1524
Table of Contents
Storage Spaces Direct solution overview
Solution configuration
General hardware preparation
Deployment scenarios
Create failover cluster
Enable and configure Storage Spaces Direct
Cluster set creation
Summary
Lenovo Professional Services
To view the document, click the Download PDF button.
Change History
Changes in the August 2023 update:
Updated the direct-connected scenarios ("RoCE: 2-4 nodes, direct-connected" on page 46 and "iWARP: 2-4 nodes, direct-connected" on page 74) to include guidelines for 4-node direct-connected cluster deployment.
Related product families
Product families related to this document are the following: