Top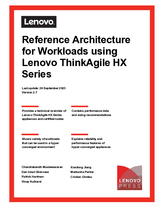 Updated
26 Sep 2023
Form Number
LP0665
PDF size
133 pages, 4.5 MB
Abstract
This document describes the reference architecture (RA) for different workloads using the Lenovo ThinkAgile HX Series appliances and certified nodes. The intended audience for this document is technical IT architects, system administrators, and managers who are interested in executing workloads on these appliances. The RA provides a technical overview of the appliances and explains why the combination of Lenovo servers and Nutanix software provides best of breed system performance and reliability. The RA contains one chapter per workload which describes the workload components, performance recommendations, and deployment best practices.
Table of Contents
Introduction
Technical overview of appliances
Deployment Models
Citrix Virtual Apps and Desktops
Microsoft SQL Server
Red Hat OpenShift Container Platform
VMware Horizon
VMware vCloud Suite
Veeam Backup with ThinkSystem DE/DM/DG
Resources
To view the document, click the Download PDF button
Tip: For SAP applications, see the document Reference Architecture for SAP Applications using Lenovo ThinkAgile HX Series, https://lenovopress.com/lp1413
Change History
Changes in the September 26, 2023 update:
Added Chapter 9, "Veeam Backup with ThinkSystem DE/DM/DG"
Related product families
Product families related to this document are the following: